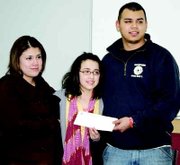 GRANDVIEW - Friends and family of Grandview Middle School sixth grader Joselina Wacenske gathered at the Grandview Fire Station last night, Wednesday, so that the volunteer firefighters' association could present Wacenske with a donation that will help fund medical expenses for treatment of her aplastic anemia.
Wacenske's mother, Thelma Romero, said that initially her daughter was to receive a bone marrow transplant in May. Then the family found out that things weren't going to work out with the two potential donors who had been lined up.
Romero then learned that there were two units of cord blood available as treatment for her daughter, one that is a positive match and one that is not. How the procedure in May will work is that it will be set up just like a blood transfusion and the hope is that, in time, Wacenske will start making her own stem cells.
Romero said that if everything goes smoothly, she will be with her daughter on the west side of the mountains for three to six months. The procedures are covered by insurance, but travel and other expenses are not.
Romero said that Wacenske is already showing signs of leukemia, which is why the family chose to go ahead with the cord blood treatment, which she said is relatively new.
The Grandview Volunteer Firefighter's Association collected $265 for the family.
A fundraiser will take place at the Grandview girls and boys basketball games this coming Friday night. Game-goers will be invited to come down to the court, make a donation and then attempt to make three-point shots from beyond the arc during halftime of both games.
Family friend Connie Gonzalez said that she has set up an account at Key Bank in Grandview, and those wishing to donate to the family may do so there.