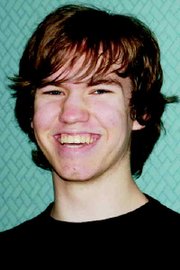 SPOKANE - Some of Washington's finest musicians and vocal students, including Sunnyside High School junior Kurt Furan, gathered for the 54th annual Washington Music Educators Association All-State Concert Band, Symphony Orchestra and Symphonic Choir event this past weekend.
Furan, a tenor in Sunnyside High School's choir, attended the event to expand his talents as a vocal artist.
He was among approximately 150 vocal students statewide and said the group spent four days of practicing for a final performance staged this past Monday at the INB Performing Arts Center in Spokane.
Although the musical pieces were provided beforehand, Furan had difficulty learning the lyrics. "I caught on to the music pretty quickly...the lyrics were more difficult to grasp because they were in Hawaiian, Mandarin Chinese, Zulu, Latin and Samoan," he stated. There was one piece that was completely in English and the piece with Zulu lyrics wasn't as difficult as others due to the fact that much of that number was also in English.
There were three Hawaiian numbers, including "Ku'u Pua I Paokalani" (My Flower from Paokalani), "E Aloha Na Pua O Hawaii" and "E Nana Kakou I Ka Manu." The conductor was a Hawaiian native, Nola Nahulu.
Furan said she was helpful in that she provided the talented singers insight and history of the songs and her native land.
She also conducted the group in performing "Da Hai A Gu Xiang," which is a traditional Mandarin Chinese song telling a story from a mother's standpoint. The mother explains to her child "the sea is my home." Furan said there is a double meaning to the message, and the sea represents family. "They will always be with me," he said was a verse from the song.
Of the experience, Furan said he believes his rhythm and pitch have been improved. He made a number of new friends and feels he has gained a greater knowledge, "small as it may be," of the Hawaiian culture.
He was happy to have been selected to attend the event, but wasn't fully aware of all that it would mean to him. "I don't think my perspective of choirs will ever be the same," he stated.
Furan said he has also come to the realization that he would like to further pursue the vocal arts and broaden his horizons. He feels doing so will add to his talents as an actor.
"I always dreamed of being a part of the Mormon Tabernacle Choir and now I have a better chance of obtaining that dream some day," he added.
With excitement in his normally subdued demeanor, Furan said he intends to attend the event again next year.