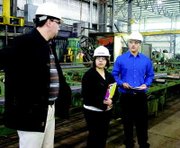 To celebrate Engineers Week, Feb. 15-21, Canam Steel in Sunnyside participated in a program for the fourth year that reaches out to potential engineers.
The crew at Canam did this by having its engineering team mentor a Sunnyside High School student working on his senior project and by allowing students from Grandview High School to 'job shadow' the drafters, detailers and engineers at Canam.
Jesse Rodriguez, the human resources manager at Canam, said the outreach program is all a part of the company's core principles of being a good corporate citizen.
"It's part of doing something for the community," he said. "It gives our youth a chance to see the business and ask some questions."
Sunnyside High School student Juan Garcia has been meeting with Canam Steel shop order supervisor Juan Navarro since last week, working on learning the program AutoCAD.
"It's a program for architects and engineers," he said. "I've been learning how to run it since the first day."
Garcia is drawing up plans for his parent's dream house as part of his senior project at Sunnyside High School. Navarro has been mentoring him.
Navarro said he has explained to Garcia how to draw out his plans and helped him with the dimensions of the dream house.
"With a housing design there are three areas to consider," Navarro said. "The social areas, the service areas and the private areas."
As soon as Garcia had finished the plans, Navarro showed him how to initiate the plans onto the program AutoCAD.
"It was pretty simple," Garcia said. "At first I needed help but now it's easy."
The job shadow program consisted of two Grandview High School juniors interested in engineering.
Patricia Roman and Juan Hernandez shadowed Canam engineers Philippe Theriault, Rana Dharmendra and Heluf Abraha as they detailed for the students how a job order gets done at the plant.
Roman and Hernandez learned about the process a job goes through, from drafting, detailing, engineering and what skills are needed.
Both had expectations from the program.
"I was hoping to get an experience of what it is like to do this job," Roman said. "I want to see if this is something I really want to do for a career."
Hernandez had the same expectations.
He said he is interested in engineering because he likes to build things. He said for his senior project he plans on designing and building wheelchair ramps for the disabled.
Roman is also hoping her experience as a job shadow at Canam will help with her senior project.
"I like engineering," she said. "I like computers a lot and have worked with Habitat for Humanity."
For her senior project Roman said she wants to design and build a playhouse and then donate it to a local daycare center.