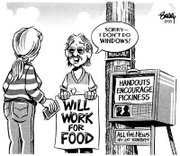 After weeks of furious negotiating, President Barack Obama and Congress have delivered a confusing, 1,000-page financial bailout that none of them have even read. The plan, which costs nearly $800 billion, sends money a lot of places but almost none of it comes my way and that's where they have made an enormous mistake.
While, of course, I personally would like a big chunk of government change, I'm speaking of "me" in a categorical sense as a small businessman and upper middle class taxpayer. The bailout does almost nothing to relieve the financial stress the economy has placed on me either personally or professionally.
If you are unemployed, running a gigantic failing business, not making your mortgage payments or have failed in a myriad of other ways, the government might have a check for you. Even if you don't make enough money to pay taxes, you'll be getting a check, but those of us swimming upstream and slowly making progress against the current won't even be getting a little push in the right direction.
On the business side, bailout money has only gone and will only go to companies that fail to meet their obligations. Lay a bunch of people off or run the risk of becoming insolvent and there might be a check waiting for you. Struggle to pay your bills and manage to keep your staff employed and you get nothing.
My company, a gigantic toy and hobby store, employs seven full-time people and about a dozen part-timers. Our sales are actually up a bit from last year, but it's taking a lot more smaller transactions to reach those sales dollars.
Basically, we're working harder to get to the same place, and the government bailout plan offers nothing to us. Instead of cutting payroll taxes, offering an incentive to not lay people off or making loans available for expansion, we get little more than the possibility some people might get jobs and then have the money to become customers.
On the personal side all the bailout has for me is a very small tax credit. Because I already own a house and actually make my mortgage payments, the government has no money for me.
Perhaps if I had never bought before or missed some payments, I'd get a lower interest rate or a tax credit, but being responsible gets you nothing. Too much of the bailout money goes towards rewarding failure, which can only result in more failure.
Fixing the economy requires putting money into the hands of the people who spend it well. That means we should not be throwing money at dying big business or the bottom of our economic scale. Those of us in the middle who own homes and run businesses need the biggest breaks and are most likely to get the country back on track.
- Daniel B. Kline's work appears in more than 100 papers weekly. When he is not writing he serves as general manager of Time Machine, New England's largest hobby and toy store. He can be reached at dan@notastep.com
More like this story