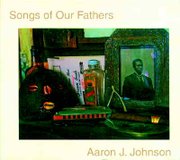 With cover art cluttered with an old family photo, as well as other heirlooms and an old harmonica, jazz trombonist/composer Aaron J. Johnson tells you right away that his new instrumental CD, "Songs of Our Fathers," is homage to the past.
"Songs of Our Fathers" is being issued by Bubble-Sun Records with a March 1, 2009 release date.
With a good portion of the liner notes dedicated to "ancestors" and "all those who have passed," Johnson aims to bring a new perspective to blues/jazz traditions.
Backed by stellar musicians, Johnson succeeds with some of his compositions.
"Folk Forms," for example, opens with an almost old spiritual or gospel feel before giving way to the sweet tenor sax of Salim Washington, a versatile performer who also plays flute and oboe on this CD.
Johnson gives the old musical forms in "Folk Forms" a more modern tilt as the tune's key refrain picks up speed and morphs into a more urban rap feel.
On "Big Fun Blues" saxophonist Washington swaps riffs with Johnson's trombone, creating a party-like atmosphere.
"Songs of Our Fathers" is best when Johnson gives full play to the featured musicians on the CD. Besides Washington, there is pianist Onaje Allam Gumbs, drummer Victor Lewis and Robert Sabin on bass.
"Yes You May," for example, is almost "Girl from Impanema" like with its warm, inviting tones. Johnson's trombone work here brings a rich vibe to the song.
A good display of teamwork by the musicians is "The Message," where Johnson's composition has a tenor sax-led movement gradually transitioning to his trombone.
The subtleties and blues influence of "The Message" leaves you humming. It's enjoyable, what my wife Joni would call "Starbuck's music."
Where "Songs of Our Fathers" falters is with interludes that disrupt more than enhance the flow of Johnson's compositions:
"So Long/I Can Wait" tempts you with jazz riffs, a gentle breeze, before giving way to a trombone solo that shrieks like an elephant in pain.
"Reconstruction (Minus 1)" has all of the instruments playing in one fine voice, almost as a vocal, before surrendering to an at times shrill oboe solo that sounds like it belongs on another album.
The still-to-be-fulfilled promise of Johnson's focus on jazz heritage and his skills as a composer is captured in "Songs of Our Fathers" third song, "Cannonball." The song has an anthem-like opening, creating a sense of anticipation, that something important is about to be said. Yet it fades away, making way for a light, inconsequential flute.
Johnson will have some important messages to make with his jazz compositions, and make some good music in the process.
"Songs of Our Fathers" isn't there yet, but it's a solid start.