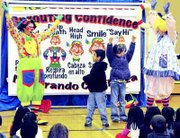 MABTON - Artz-Fox Elementary School students were in for a treat this past Friday morning when Kaleidoscope Konnections made its way to Mabton to present a humorous anti-bullying assembly.
During the 45-minute "Blooming Buddies" assembly featuring three clowns, seeds of respect and caring for others were planted in the children.
The presentation included music and skits, with topics ranging from picking on the new kid in school to standing up to bullies and avoiding gang members.
In one song, students were taught five simple steps to sprouting confidence: standing tall, taking a deep breath, holding heads high, smiling and saying hi.
The clowns also taught the kids how to handle anger in a skit entitled "Growing Friends." The youngsters were encouraged to stop, take three deep breaths, slowly count backward from five to one, think about something nice and use words to convey that nice thought.
"Words can really hurt," explained Oochie the Clown, otherwise known as Maureen Mould, founder of Kaleidoscope Konnections.
According to her website, Mould's organization is dedicated to offering fun and motivating presentations that teach and encourage.
Throughout the presentation, Sassy the Clown continuously portrayed herself as the bully. Following a song called "In the Middle of the Muddle is Me," Sassy told her new friends Oochie and Toodleoo that she felt scared at home when her parents fight.
"I have feelings inside me, they get all mixed up in a muddle," she said. "Do you think that's maybe why I'm mean?"
When asked the question, the elementary students let out a very big "yes!