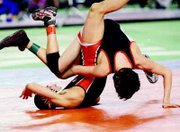 TACOMA - Sunnyside's Steven Romero capped a storied high school career with his second straight State title, and Christian Reyes earned his first ever State championship as the two led the Grizzlies to a fifth place finish at Mat Classic XXI this past weekend at the Tacoma Dome.
Romero (112 lbs.), a senior, finishes the season undefeated at 41-0. He has only lost three times in his last 85 matches. He finishes his four-year career at Sunnyside High School with a 119-11 record.
Last year Romero wrestled most of the season at 112 lbs. to gain strength but switched to 103 lbs. as Sub-regionals began. He then won the State championship at that weight.
This year he breezed through the 112-lb. competition to get to State and began his quest for a second straight title with a first round match against Cody Botten of Mt. Si High School on Friday. Romero jumped on Botten early with a pin in 1:49.
Romero earned himself a spot in the quarter-finals when he scored a 17-2 technical fall against Camas High School's Jimmy Miller.
"This wasn't much of a contest," Sunnyside Coach George Paulus said.
Romero scored two takedowns and a three-point near fall in the first round and then scored another takedown and a near fall in the second as he easily beat Miller.
Paulus said he was expecting Romero to face a tough match in the semi-finals against East Valley's Keith Babington but according to Paulus, "...he (Romero) just pinned him."
The Grizzly grappler jumped all over Babington early and got the fall in 1:32.
That set up a finals bout with North Central's Nathan Brown, a wrestler Romero faced, and beat, at Sub-regionals and Regionals earlier this month.
"It was never really contested," Paulus said. "Brown is a pretty tough kid but Steven wasn't really threatened at all."
Romero used three takedowns to score a 6-1 win and earn his second title.
Reyes, a senior, earned his first ever State championship in the 103-lb. weight class by beating teammate Nathan Gonzalez in the finals.
Reyes started his journey by blanking Mark Garcia of Lindbegh High School 14-0. He then defeated Bellevue High School's Matthew Casiemes 7-1 in the quarter-finals to set up a Saturday semi-final match with Josh Inouya-Clayton of Yelm High School.
Paulus described this match as "great" as Reyes fought Inouya-Clayton to a 10-10 tie through regulation, then used a takedown and three-point near fall to score five points in overtime and earn a spot in the finals.
There he faced his teammate, the freshman Gonzalez.
"Going into that kind of situation knowing your school can't lose is pretty nice," Paulus admitted.
Reyes used three takedowns to decision Gonzalez 6-1.
The two State titles helped Sunnyside to a fifth place finish in the 3A team standings, two spots better than last year.
Enumclaw High school took first with 174 points and Yelm High School was second with 139. Spokane's East Valley High School placed third with 127 points and Sedro Woolley edged Sunnyside out of fourth place with a 99-point effort. The Grizzlies tallied 91 points.
This is the sixth year in a row the Grizzlies have had a top 10 finish. Five of the top eight teams at this year's State tournament participated in the Region IV wrestling tournament held in Sunnyside last week.
The freshman Gonzalez might have missed out on a State title but he still put together a rather impressive run in earning runner-up honors at 103 lbs. He started by beating Regional II champion Travis Reano of Enumclaw High School, 12-1.
"Nathan lost to Reano the first week of December, 6-1," Paulus said. "It was kind of a concern but Nathan just got in there and kicked his butt."
Gonzalez put Reano on his back twice in the first round and held a commanding 8-1 lead heading into the second period.
The Grizzly earned four stalling points in the last two rounds.
"He (Reano) quit wrestling because Nathan was just tearing him up," Paulus added.
Gonzales defeated Ryan Markham of Camas High School, 13-6, in the quarter-finals and then outlasted East Valley's Nick Sweeney 3-2 in the semi-finals to set up his title match with Reyes.
Sunnyside's David Huizar (160 lbs.) went 4-2 at Mat Classic XXI and earned a fourth place finish.
He dominated Michael Madden of White River 13-2 in the first round but lost to Steve Harvey of Capital High School by pin in 1:19 in the quarter-finals.
This loss dropped Huizar into the consolation bracket and he put together three wins to earn himself a spot in the third/fourth place match.
First he beat Chris Walsh of Blanchet High School 11-6. Columbia River's Paul Connell was next on Huizar's list as the Grizzly dispatched him 9-4. He then got by Camas High School's Caleb Malychewski 6-5 in a nail biter before losing to East Valley's Nick Price 3-2 for fourth place.
Shawn Olivarez (135 lbs.) finished with a 2-3 record to earn a sixth place medal for the Grizzlies.
Olivarez started his tourney run on fire by beating Bonney Lake's Nick Bendon 3-2 in the first round and Hamilton Noel of Liberty-Issaquah 5-4 in triple overtime in the quarter-finals to earn a spot in Saturday's semi-final match.
There he lost to Erik Booth of Franklin-Pierce 9-2. He then lost to Bendon in a rematch and Hanford's Caleb Gifford and had to settle for sixth place honors.
Baltazar Avalos (140 lbs.) and Nick Martinez (130 lbs.) didn't make it past Friday's matches. Both Grizzly grapplers went 0-2 on the day. Leroy Rodelo, an alternate in the 145-lb. weight class, never got a chance to wrestle for the Grizzlies.
Sunnyside's Amber Rodriguez became the first ever Lady Grizzly to qualify for the State tournament and the first to place as she earned herself a fourth place medal in the girls tournament.
Rodriguez (140 lbs.) went 4-2 at the tournament starting with a 9-2 beating of Sedro Woolley's Jamie Randall.
"She did a great job," Paulus said of the effort Rodriguez showed at the tournament.
The Lady Grizzly then lost to Jolene Choke-Meyers of Kentwood 10-2 in the quarter-finals. Rodriguez then strung together three wins, starting with a 2-1 squeaker over Chewelah's Jessica Johnstone.
"Amber lost to her at the Regional tournament," Paulus said. "She was able to avenge that."
Rodriguez then edged Kandie Kujawa of White River 4-1 and Teira Graham of Burlington-Edison 3-2 in overtime to earn a spot in the third/fourth place match.
There she lost to Sedro Woolley's Jalysse Garcia, 3-2.
"It was real close," Paulus said. "It could have gone either way. An escape was the only difference."
Paulus was happy with his team's effort, noting the prestige of having two State champions.
As for next year, Paulus remains optimistic.
"We're losing a pretty good group of seniors this year but hopefully we can reload and give it another run next year," he said.