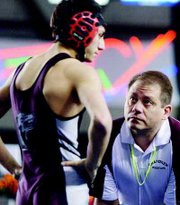 TACOMA - Santos Guillen became the first Grandview Greyhound wrestler to reach the Mat Classic wrestling finals in six years before falling short this past Saturday in the 2A, 103-lb. championship match by a score of 10-4.
Guillen, a senior, finished sixth at the Tacoma Dome Mat Classic last year among 2A wrestlers at 103 lbs. He was trying to become the first Grandview wrestler in more than a decade to claim a State title.
In Saturday's title tilt, Guillen squared off against Brad Watson of Elma, a third-place finisher at State last year.
"The match was a lot closer than the score indicated," Grandview Coach Jeff Sevigny said of Guillen's 10-4 loss to Watson. "We expected a close match and we got one."
The match had a promising start for Guillen, as he scored a takedown to go up 2-0 in the first period and held the lead until things got out of hand inside the final 10 seconds of the opening frame. Guillen gave up a reversal and suddenly it was a 2-2 match.
It was a similar story in the second stanza. Guillen grabbed a 3-2 lead and looked like he might make it hold up. Back came Watson, outscoring Guillen 4-1 in the last 30 seconds of the second period.
Sevigny said the late swing in the second came about when Guillen took a chance on an arm spin move in the final 30 seconds. "That's not a move we practice," the coach said. He said Guillen likely attempted the move because the two wrestlers were so close to the edge of the mat that if things turned sour Watson wouldn't be able to get a score with the wrestlers off the mat. "They were so near the edge of the mat he thought he was safe."
Guillen miscalculated, as Watson caught him on his back, scoring a takedown and a two-point near fall, all just six inches from the edge of the mat. Guillen came up with an escape, but he still trailed 6-4 heading into the third and final frame.
"A two-point deficit in the third period of a State wrestling match is huge," said Sevigny.
Guillen had no option but to gamble in the third frame. That only served to set up Watson for four more points in the period.
It was a tough way to wrap up a State title bid.
"It was probably a one or two point match without the mistakes," Sevigny said of Guillen's miscues.
Just getting to the finals was a daunting task in itself for Guillen, as he had to rally from a 5-1 deficit in the third period of the semi-finals earlier Saturday to earn a 7-6 decision over Daniel Page of Tumwater.
"That's the thing, Santos doesn't panic," Sevigny said of his senior grappler. "We were worried but he wasn't. He's a tough kid, he was able to stay with it."
Part of Guillen's success in the third frame of the semi-finals was accurately reading his opponent.
"It really looked like the kid was trying to sit on the lead. He wasn't confident, he was just trying to hang on and run the time out," Sevigny said. "Santos didn't let him do that, he kept the pressure on and wore the kid down."
Guillen got to within 6-5 and scored the winning points on a near fall with just 30 seconds left in the match.
"Santos' typical style is to keep pressure on the opponent, he didn't let the kid breathe," Sevigny said of Guillen's wrestling in the third period.
The coach said it's actually not too surprising that the semi-final match was so close, with such a dramatic finish.
"Usually the semi-final matches are closer than the finals because the kids are laying it on the line to get to the finals," Sevigny said.
As expected, Guillen easily punched his ticket to Saturday's medal round with a 17-2 quarter-final win on Friday over Chism King of Washougal. The Grandview wrestler opened his second-place run with an 8-3 first-round win over Nick Henderson of Burlington-Edison.
Grandview's other wrestler that qualified for the State 2A tourney was Adam Morales at 189 lbs. It was the sophomore's first time competing at the Mat Classic and nerves prevailed as he lost his first two matches of the double-elimination tourney.
"Adam didn't wrestle badly, but it was his first time out," the coach said. "He was shell shocked. The size of the arena, the fact it's a State tourney got to him a little bit. He couldn't loosen up, couldn't wrestle as well as he has in the past."
Morales was pinned in both his State matches, but he was competing in both matches at the time of his defeat.
In the opener, Morales was down 7-3 in the third period when senior Trevor Romero of South Whidbey pinned him with just a minute left in the match. "It was a senior against a sophomore, Adam got caught right at the end of the match and got pinned," Sevigny said.
Morales' nerves may also have been a factor in his second match at State, against a wrestler he beat just the week before at Regionals. Morales and Tanner Symons of Riverside were tied 0-0 near the end of the first period, when the Grandview grappler fell victim to a pin. "Adam was staying with him, it looked like we were going to pull things out but boom, the kid caught him on his back and it was over."
Grandview ended the 2008-09 wrestling season by placing 31st out of 52 2A schools represented at the Mat Classic. The Greyhounds scored 19.5 points and Deer Park won the team title with 184.5 points.
Sevigny said he and the Greyhounds will miss Guillen next season, both as a wrestler and as a leader.
"We're losing an awesome kid, you don't replace a kid of that caliber," Sevigny said. "He's one of our team leaders. His work ethic is second to none. It's an honor to have worked with him for four years."
Looking ahead to next year, Grandview will return a State qualifier in Morales. "It will be a whole different experience for him next year," Sevigny said. "He'll go in with an attitude towards placing instead of just participating."
The coach says there are some hopefuls who may join him at the big dance next year.
"We had several kids go to Regionals. We have several young kids and we're looking forward to coming back next year and taking a few more," Sevigny said of the 2010 Mat Classic.