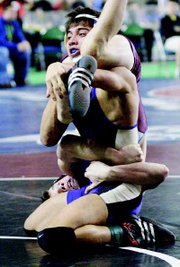 TACOMA - The Mabton Vikings sent five grapplers to the Tacoma Dome this past weekend to compete in the 1A WIAA State Wrestling Championships.
Three grapplers returned home with medals, including 125-lb. competitors Eric Meza and Luis Aviles, who garnered fifth and sixth place honors, respectively.
The teammates grappled with one another in the last match of their careers this past Saturday. In the final three seconds of the fifth-sixth place bout, Aviles got an escape and went for a takedown. He and Meza, however, went out of bounds before that takedown was secured. As a result, the duo battled to the last second, with Meza coming out on top by a 9-8 score.
"Both Eric and Luis put together good days," said Mabton Coach John Kilian.
Meza had two good wins against Orting's Jessie Akins and Dalton Streibeck of Cashmere. Meza and Akins met one another on the mat in the first match for the pair. Meza earned an 11-6 decision, and met up with Streibeck in the second match. Meza won that battle by pin in 1:08.
"Streibeck is a freshman, he looked green and he was overwhelmed by the early pressure by Eric," recounted Kilian.
Meza was pinned by Jacob Lauderdale of Lakeside in 1:26 in the semi-finals. The Mabton wrestler then dropped into the consolation brackets, where he lost another bout to Heath Martin of Stevenson by a 7-4 decision. That loss put Meza into the fifth-sixth place bout with Aviles.
Aviles began the tournament with an 11-8 loss to Trevor Morrison of Columbia-Burbank. Morrison defeated Aviles at Regionals, and Aviles knew it would be a difficult match. He dropped into the consolation bracket and defeated Lindsey Vargas of Lake Roosevelt (5-2) before facing off with Streibeck. A 6-2 decision in favor of Aviles moved him into a match against Andy Campbell of Ki-Be. Again, Aviles prevailed with a 10-3 decision and he found himself on the mat against Morrison once again.
Morrison won another 11-8 decision and Aviles then lost his next battle against Meza.
Eighth place honors went to Mabton's Angelo Salinas (171 lbs.). He met Kyle Trudeaux of Omak in the first match and the 7th/8th place bout at the Tacoma Dome. Salinas won by pin in 5:37 the first time the pair met, but was defeated 12-6 by Trudeaux in the medals round.
Salinas lost to Brien Jaksha of Forks by a 3-2 decision, defeated Rafael Guzman of Zillah 9-0 in the third bout, lost 11-2 to Keegan McCormick of Tonasket and fell into the 7th/8th place match at that point.
Kilian said Salinas was disappointed to not have fared better at the tournament. "We felt he could have done better, but he didn't wrestle like he did the rest of the season," he commented.
He felt Salinas' two matches with Trudeaux were hard-fought battles and Trudeaux proved to outdo Salinas in the end.
At 140-lbs., Mabton's Andy Rivera had a rough Friday. He competed in two bouts and was eliminated.
"This was disappointing for Andy because he came close to medaling last year. It was just poor timing this year," said Kilian.
Rivera lost his first bout by pin in 3:01 to Nikko Veltri of Orting. He dropped into the first round of consolations against Cody Martin of Castle Rock and was pinned in 2:59.
Viking Damien Marquez (215 lbs.) also had a rough beginning and ending to his tournament showing. He injured his knee in the first bout against Nato Orozco of Connell. Marquez was ahead of Orozco 7-3 at one point in the match, but lost in overtime after injuring his knee.
Orozco ended up earning runner-up honors at State. Marquez then lost by injury default to Hayes Pestana of Stevenson in the second match.
"The team had fun...it was big year for our seniors, but we ended up disappointed with 24 team points at State," said Kilian, stating he felt the teams at the competition were solid and losing team points by making simple mistakes was costly.
Eight of Mabton's team members graduate at the end of the 2008-09 school year and eight team members will return. Kilian said the team will be in a re-building year as most of the returning members are freshmen.
"I see a lot of potential in those who will return and in the eighth graders who will join us as freshmen," he said, explaining the members who participated this season will be more experienced and taking on leadership roles.