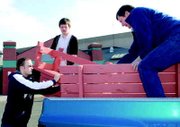 This past Friday, Sunnyside High School received four new benches for students to sit on courtesy of an Eagle Scout project by sophomore Kyle Scott.
Scott and a group of friends and community members spent approximately 130 hours cutting, sanding, securing and painting the four benches.
He said he wanted a project that was both cost-effective and practical. Seeing a need for seating outside Sunnyside High School's front entrance, he decided to remedy that need.
"Kids have nowhere to sit when they are taking a break or waiting after school," Scott said, explaining he also realized spectators and team members needed seating during tennis season.
He built two benches for the front entrance to the high school and two benches for the tennis courts. He also had plaques engraved to explain the origins of the benches.
To accomplish his goal, Scott received donations of paint supplies from Sunnyside's ACE Hardware and Bi-Rite Lumber. He also raised funds from teachers, students and community members to assist in purchasing supplies.
As the benches were delivered to the school last Friday, excitement was generated. Students clambered to enjoy a new seat.
The two benches delivered to the front entrance of the school were not placed outside for security reasons. They will be available to students once they can be secured to the cement just outside the doors.