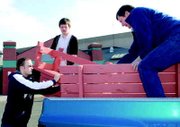 The Sunnyside Grizzly boys basketball team played one of its best quarters of the season in a 70-47 home win over Hanford this past Friday, punching its ticket to the 3A Regional competition.
Friday's loser-out contest went the Grizzlies' way from the outset, as Sunnyside gradually built a lead.
Sunnyside led 17-13 after one quarter and 31-25 at the half. The Grizzlies increased the advantage to nine, 50-41, heading into the fourth quarter.
"Our press was very effective, we were able to force them into quite a few turnovers and capitalize off those turnovers," said Sunnyside Coach Ron Rowe.
The Grizzlies also found success in stopping the Falcons' leading scorer, Pete Zachara. After going for 31 points against Sunnyside in the regular season finale on Feb. 17, Zachara was held to just 10 points on Friday.
"We kept him from getting on track and hitting a lot of shots against us," said Rowe.
All of that set the stage for a Grizzly blitz in the fourth quarter, as Sunnyside outscored Hanford 20-6 to put an exclamation mark on the win. Sunnyside held the Falcons to just 2-of-15 shooting in the final stanza.
Israel Manzo scored eight of his 14 points in the fourth quarter to spark the Grizzlies.
Rowe said it came down to defense, again.
"We played some real solid defense on the half-court as well as the full-court," the coach said.
Sunnyside's passing game was flawless in the final stanza.
"We had some good inside-out passing," Rowe said. For the game, Sunnyside had 19 assists, led by Kyle Leija with eight dishes.
Alfredo De La Barrera led Sunnyside with 15 points, followed by Manzo and Pedro Vargas with 14 points each.
Sunnyside held a 30 to 25 rebounding advantage, paced by De La Barrera and Tristan Abbott with eight and five boards, respectively.
Sunnyside found it difficult to sustain the high emotions from Friday's night's must-win game, as the Grizzlies had to hit the hardwood the very next night at West Valley to decide the one and two seeds to Regionals.
Sunnyside fell 59-47, struggling from the get-go against a Ram team playing the final game in its old gym.
"You're always concerned a little bit about an emotional let-down," Rowe said. "We had a big game on Friday night and we knew we had to be ready to get going right away (on Saturday).
West Valley took charge early, leading 15-6 after one quarter and 37-21 at the half. At one point the Rams led by as much as 19 points in the first half.
"They were able to get a couple of putbacks and defensively we broke down a little bit," Rowe said of Sunnyside's first half struggles.
The Grizzlies roared back in the second half, though, closing to within nine points in the third quarter before falling behind by double digits, 45-33, heading into the fourth quarter.
With five minutes left in the game, Sunnyside again cut the West Valley lead to nine points but could get no closer.
"We talked about at halftime that we need to play stronger defense and rebound more consistently," Rowe said.
Speaking of rebounding, Sunnyside dominated the boards with a 35 to 23 advantage over West Valley. De La Barrera had 13 boards to lead Sunnyside in the paint.
The rebounding heroics weren't enough, though, to overcome West Valley's large first half lead.
"They're a good team and you can't spot them a lead like that," Rowe said of the Rams.
De La Barrera sparked the Grizzlies on offense with 24 points and Manzo added 13 points.
The Rams were led by Aleix Hernandez with 24 points. West Valley's leading scorer, Matt Borton, was held to just 11 points.
"Jordan Esqueda did a really good job on Borton," said Rowe. "He never scored a field goal in the second half."
Sunnyside will need more of that defensive effort tomorrow night, Tuesday, when it hosts another loser-out Regional basketball game.
The Grizzlies (11-11) will host Mt. Spokane here at 6 p.m. Tuesday. The winner will advance to Regional competition Feb. 27-28 in Spokane.
Rowe said for Sunnyside to continue its season beyond Tuesday, the Grizzlies will need to play strong aggressive defense, take care of the ball and rebound consistently.
"We'll need to play together as a team," Rowe said. "We've been doing real well at that and if we continue we'll be effective.