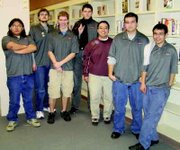 SELAH - Grandview High School sent one of its two Knowledge Bowl teams to compete at the 2A Regional meet last Wednesday. The team competed against five other schools, including championship winner Ellensburg and runner-up Selah. Grandview garnered fourth place honors, one point behind Toppenish.
The Knowledge Bowl is much like a quiz game show, according to Grandview Coach Kelly Ledgerwood. He said there are a number of questions directed at the teams competing and those questions can be related to any subject. Subjects may include math, mythology, science, social studies, current events or English.
"Competitors must have a broad knowledge of a number of subjects," said Ledgerwood.
He said some team members for the Greyhounds have topics of strength. Patrick Buker is strong in geography and foreign languages, Martin Barrientes' strengths include biology and science, and Ivan Sandoval and Jacob Marquez provided the team with a broad spectrum of knowledge.
Marquez, the team captain, was also familiar with the Knowledge Bowl system, according to Ledgerwood.
He said there were 11 students participating on the two Grandview teams. Each school is allowed one team at Regionals and that team can have two alternates. Serving as alternates for Grandview were Micky Moore and Wesley Gamble.
Prior to Regional competition, the teams compete in four or five practice rounds. Ledgerwood said those rounds can involve teams of different classifications. But, once the teams meet at Regionals the competition is aligned by classification.
"Overall, I am pleased with how well the team did...they scored their highest points of the year in the written portion of the competition, did well on two of the oral portions but struggled in the final round," said Ledgerwood.
He said both Ellensburg and Selah are very strong at the Knowledge Bowl and he feels they earned the spots at State. "But, we were so close to third...we could have won third place," he added.
The Grandview team scored 62 points, 38 points on the written portion of the event and 24 points on the oral portion.