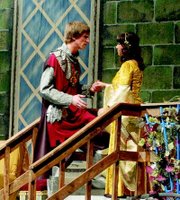 "I'm shy!" Princess Winnifred (Lainey Rodriguez) shouts in song to the amazed court of King Sextimus and Queen Aggravain.
The contradiction is all part of "Once Upon a Mattress," a musical now being performed by Sunnyside High School students under the direction of Corey Murphy.
It's "Camelot" meets Mad Magazine as the fairy tale of the Princess and the Pea is given a comic spin by the musical which helped launch Carol Burnett's career more than 50 years ago in the lead role of Winnifred, or Fred as the character likes to be called.
Rodriguez continues the comedic, athletic tradition of the role in fine fashion, taking the stage by storm with dances, weight lifting and even a drinking competition.
Rodriguez is not alone in bringing the musical to life, as Jesenia Rodriguez is delightful as the brash Queen Aggravain. King Sextimus, who is mute for much of the play, is well played by Nathan Whitis, whose demeanor as the king had a comic resemblance at times to the Dwight Schrute character on "The Office."
The plot to have Fred become a bride for the meek Prince Dauntless (suitably played by Hank Tramel) is hatched when Sir Harry (Adam Cleghorn) learns that Lady Larken (Crystal Rivera) is pregnant with his child.
The couple must get married, but for any couple to marry the queen has decreed that Dauntless first needs a bride to pass the royal test.
Despite Aggravain's best efforts, Fred passes the mattress test with some help as theater-goers will see.
The backdrops and stage scenery are well done in conveying 15th century life and dress. The cast is large, and well appointed with a number of supporting players that dance, sing, laugh and help bring the wacky world of "Matress" to life.
Given the nature of some of the scenes dealing with pregnancy, and the king's flirtatious nature, this is a play that's probably not suited for young children.
The play will continue to run this week with performances on Thursday, Feb. 26, at 6 p.m. and Friday and Saturday, Feb. 27-28, at 7 p.m.