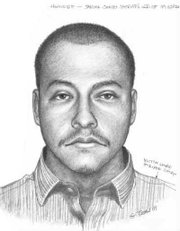 The Yakima County Sheriff's office has released a sketch resembling an as of yet unidentified murder victim whose charred body was found in a vineyard near Sunnyside.
According to deputies, the Hispanic male was wearing brown leather boots, blue jeans, a white tank top and a size large black button up collared shirt featuring thin white stripes. Deputies noted the boots are size nine and a half. They also say he was wearing a stud earring in his left ear and a pair of black plastic sunglasses were found melted near his head.
Individuals who believe they recognize the victim represented in the sketch are encouraged to call 509-574-2500.