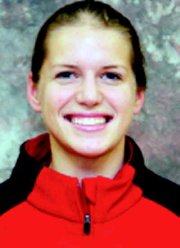 When Christy (Linde) Borders suffered a shoulder injury in the fall of 2006 while playing for the Gonzaga University volleyball team, she had no way of knowing her collegiate volleyball career was over before it even got started.
By that next spring her injury had forced her off the team and with that went any thoughts of competitive sports.
The 2006 Sunnyside High School graduate was a star on the volleyball court for the Grizzlies but she also excelled at track. Borders represented Sunnyside at the State tournament in 2006, garnering a sixth place finish in the 100-meter hurdles and a 10th place showing in the triple jump.
But after leaving the Bulldogs' volley team in 2007 and getting married in the spring of 2008, Borders left GU and began attending classes at Eastern Washington University.
It was there that her husband suggested she shake the dust off her track shoes and give it a go for the Eagles.
Borders said she compared her high school hurdle times and jumping distances with the times of her counterparts on the EWU track team.
"They compared pretty well," she said. "I thought I would give it a shot."
Borders had not run track in two and a half years but she e-mailed the coach and told her she want to give it a go.
"She told me to come on over," Borders said. "So far, it's worked out. It's been a lot of fun."
Borders just finished up the indoor season last Saturday and ran a time of 9.02 seconds in the 60-meter hurdles. The time was good enough to get her invited to the Big Sky Conference Championships in Flagstaff, Ariz. Feb. 26-27. Her time of 9.02 seconds was also the third best time in the history at EWU.
Disaster almost struck Borders twice as she sprained her ankle before the start of the season. The ankle tape she wore during the first meet took some of the stress off.
"Being at home made it easier to get back into it," she said.
From that point on she's improved in every single meet, bettering her time in the hurdles and her distance in the triple jump.
"I didn't expect to make the conference championships," she said of her amazing season. "I just wanted to have fun, and then I realized, hey, I can compete."
Borders will only be competing in the 60-meter hurdles in Arizona and said she must win her event to have any chance to make it to the NCAA Division I Championships. That is a feat she feels might be a little out of reach.
She feels more confident of a top three finish, an accomplishment that would earn her a spot on the all-conference team.
"I think I can do it," she said.
On her side she has her husband, Andrew Borders. After all, he is the reason she's in the conference championships and has been by her side through every meet.
"He's my good luck charm," she added.