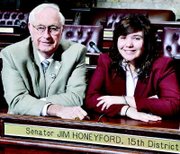 OLYMPIA - Natasha Lara, a freshman at Grandview High School, took time away from her studies last week to participate in the Senate Page Program. She was sponsored by Sen. Jim Honeyford (R-Sunnyside).
Lara was one of 23 junior high and high school students between the ages of 14 and 16 who took part in the program during the sixth week of the 2009 legislative session. Pages deliver mail, run errands, present the flag and learn about the legislative process.
Students also engage in a mock session and try their hand at drafting a bill.
"The page program offers a rare, first-hand opportunity to learn about state government," said Honeyford. "I'm glad Natasha was able to take advantage of it."
Lara heard about the program from her sister who worked as a page in the past and is currently an intern in the Senate. She was excited to participate, and recommends it to other students.
"Working at the Capitol is really cool!" she said. "I was nervous at first, but everyone here is really nice."
Though she had met him previously, Lara enjoyed getting to spend time with Honeyford in Olympia. "He's a really great guy," she said. Lara is considering a career in politics, and hopes to attend the University of Washington after she graduates from high school.
When she gets a break from school, Lara enjoys drawing, painting and sculpting. She also loves listening to music, and is learning to play the guitar. She is the daughter of Sabio and Gracie Lara of Grandview.
Junior high and high school students who are interested in the Senate Page Program are encouraged to visit www.leg.wa.gov/Senate/Administration/PageProgram/.