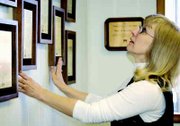 For the 10th year in a row, the Port of Sunnyside has been granted a certificate of achievement for excellence in financial reporting, or a CAFR, as port officials refer to it.
"The CAFR is a real feather in our cap," said Carol Carter, the port's finance officer. "There are 75 port districts in the state of Washington and we are one of four in the state to receive a CAFR."
The recognition is granted by the Government Finance Officers Association.
Carter said the ports of Seattle, Tacoma and Bellingham received the same recognition.
She said the recognition is particularly useful when dealing with lending institutions, credit rating agencies and others interested in the professionalism of a government's financial function.
Carter said submitting information is a very detailed, thorough process that takes a lot of work.
"There is a really big book that outlines the requirements for the award," she said. "It's a substantial checklist to ensure that the reports qualify. Our 2007 CAFR submittal was 75 pages and each page is reviewed for its content.
"They review everything from the titles at the top of the page to the page numbers at the bottom and everything in between."
The recognition is not the result of an audit, but an entity's state audit has to be complete prior to the submission of reports to the Government Finance Officers Association.
Because the work is so detailed, Carter said she's already starting working on the port's 11th submittal.
Carter, who has been with the port for three and a half years, added, "Top quality financial reporting is essential if governments are to be fully accountable to their citizens and to others with an interest in the government's finances."