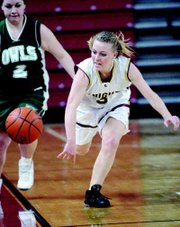 YAKIMA - Yesterday's 54-16 victory by Sunnyside Christian in the opening round of the 1B State girls basketball tournament wasn't what Lady Knight Coach Al Smeenk would describe as his team's strongest effort of the season.
"We really didn't play that well," Smeenk said.
The Mary M. Knight Owls of Matlock might beg to differ.
Smeenk's crew, this year's Greater Columbia 1B League champions with a perfect 8-0 record, steamrolled the Owls in not allowing the third place finishers in the Pacific 1B League to score more than five points in any one quarter Tuesday afternoon.
The Mason County team, which brought a 10-12 record into the Yakima Valley SunDome yesterday, was so mismatched that it didn't even light up the scoreboard until nearly half the first quarter had ticked away. It only got worse for the Owls, as their next bucket, a free throw, came nearly a full minute into the second period.
The Owls' leading scorer this season, senior Alicea Scott, was held in check, most notably by defensive specialist Kelly Newhouse. The 5'9" junior limited Scott to just seven points, well below her 13-point per game average this season.
The only other Owl to score yesterday was senior Teryssa Toppano. She had a team-high nine points.
Sunnyside Christian had the game in hand by halftime, leading 27-7. The Lady Knights outscored Mary M. Knight by a 27-9 margin after intermission to account for the final 54-16 score. The win boosted Sunnyside Christian's overall record on the season to 18-5.
As dominant as the Lady Knights were, Smeenk saw room for improvement. He pointed to his club's field goal shooting, noting the Sunnyside Christian girls only connected on 30 percent of their shots (20-for-65). Free throw shooting, he said, could have also been better, as the Lady Knights made just 11-of-19 (58 percent).
But, as the Lady Knights' opponents get tougher as the week progresses, their shooting numbers might also improve. Mainly because Smeenk might be forced to leave his starters on the floor longer. Yesterday against the Owls, his starters shot at a 37 percent clip from the field. But because the game was so lopsided, Smeenk went to his bench early and often. All seven of his reserves saw plenty of action, ranging from three minutes and 44 seconds for one substitute to as many as 18 minutes-plus for another.
As balanced as the effort was by the Lady Knights in their easy win over Mary M. Knight, the Van Wingerden sisters especially stood out from the pack.
The older of the two, the senior Melanie, poured in a game-high 18 points Tuesday afternoon on nifty 8-of-14 field goal shooting. The 5'10" post player also controlled the boards, snatching a game-best 17 rebounds off the glass, which powered the Lady Knights to a 58 to 26 advantage over the Owls in caroms collected. The older Van Wingerden also shared game-high honors in defensive picks, as she and teammates Erika Den Hoed and Hilari Bosma each came away with three steals.
The younger Van Wingerden, Joleen, a 5'9" junior, shone through in her own way against the Owls. Coming in off the bench, she was the only other Lady Knight to score in double figures, tossing in 10 points on 3-of-9 field goal shooting while going 4-for-6 from the foul line. She also scraped down seven rebounds, four of them off the offensive glass, and only turned the ball over to Mary M. Knight one time.
Sunnyside Christian, too, got a combined 17 points from the trio of Newhouse, Bosma and Den Hoed. Newhouse and Bosma chipped in six apiece, with Den Hoed adding a five-point effort, which included going 1-for-1 from beyond the 3-point arc.
Adding three-point performances for the Lady Knights were Analisa Van Oostrum, Ashley Haak and Renee Dalrymple.
In looking ahead to today's 5:30 p.m. quarter-final game against the Columbia Lions (19-4), the Lady Knights won't be able to key on any one player. The Lions don't have any one single player averaging in double figures in the scoring column. Instead, Columbia is very balanced, with three girls averaging between eight and nine points a contest, and another three players averaging five to six points a game.
The Lions won their State tourney opener by a 41-39 score over the Neah Bay Red Devils.
"We know they'll be pressing us the whole game," said Smeenk, "From the opening tip until the final horn sounds. From what we saw yesterday, they'll be running a full-court man press. We want to get the ball into the hands of our guards, clear out and allow them to dribble up past the one-on-one coverage."
Smeenk said unlike yesterday, the play of his guards is going to figure in much more prominently in the rest of the State tourney games.
"Our guards need to contribute more," he said, noting yesterday against the Owls they combined for just 6-of-34 field goal shooting. "We need a more well-rounded offense.
"If we play well, we'll be fine," Smeenk added.
A victory tonight over Columbia will propel Sunnyside Christian (18-5) into Friday's 6 p.m. semi-final tilt against either Sprague-Harrington (10-11) or Colton (21-0).