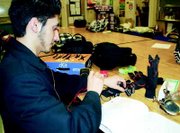 Sunnyside students have been working on ambitious science projects. The students in Joyce Stark's advanced placement environmental science class at Sunnyside High School recently shared some of their work.
Each of the students in the class were instructed to devise projects that addressed environmental issues, according to Stark.
Megan Tyler has been studying the effects cigarette ashes, smoke and filters have with water. She said she wanted to see if cigarette waste pollutes water and to what degree, if any.
To test her theories she filled several containers with tap water. She polluted each of the containers with each conceivable combination of the cigarette waste.
Tyler said she has been testing the water for nitrates, phosphates and ph levels. She also measured the carbon dioxide and oxygen in the water.
She furthers her studies introducing Daphnia, sand fleas, because of the transparency of the small insects. "I can see their heartbeat under a camera microscope," Tyler explained, stating she was curious as to the environmental effects cigarettes pose to ground water and other water sources.
Anthony Aguilar's project involves three different thermo-regulated gloves. He designed circuitry for each of the gloves with the idea of providing a product that is cost-effective and can be utilized for keeping hands warm in cold weather.
He tested the insulation of each glove, and measured the heat produced and exchanged as a result of the different types of circuitry.
"I wanted to discover if gloves could be developed that are economically feasible for the average consumer," Aguilar explained, stating he has been measuring the level of energy consumed by each of his prototypes. To measure the energy used, he used a multi-meter commonly used by mechanics and electricians.
He used 9V batteries as an energy source for the experiment and the voltage remaining in the batteries will help him determine which glove is more energy-efficient.
Chelsea Garcia has been busy testing organic waste materials as a source for carbon filters. She gathered six different woody materials, such as cherry pits, acorns and pine cones to conduct her experiments.
She said many of the elements she is using to conduct her experiments are commonly found and many fruit and nut producers do not use the waste materials.
"Because water pollution affects agriculture and we utilize a lot of agriculture products, I felt a solution to the more expensively made carbon filters may be found in ag waste...a biodegradable resource," said Garcia.
She is hoping her research will lead to an eco-friendly product for reducing water pollution.
Corn-based polymers are a new plastic found on the market. Zach Brandvold said he has found there are specific conditions required for the product made of biodegradable materials to actually break down.
As a result, he launched a project testing the organic compound and its counterpart, the petroleum-based plastic materials more commonly used in society.
"I feel there needs to be a more efficient biodegradation," said Brandvold.
The instructions currently provided to recyclers for the corn-based product to break down require soil temperatures of 140 degrees. Brandvold has been creating those conditions and testing the length of time required for the material to degrade.
Last year Eric Desmarais studied the levels of radon in several Sunnyside neighborhoods. This year, the junior wants to discover whether or not plants can actually reduce levels of radon in the environment.
"I found out the homes on the hill had higher radon levels," said Desmarais.
Because of that discovery, he has sealed plants into several air-tight chambers and subjected those plants to radon using thorium lanterns.
The control box does not contain a plant and Desmarais said if the radon levels in the chambers containing plants measures at lower levels, it will prove plants somehow do reduce those levels.
Melissa Ehart has been studying methods for reducing carbon dioxide in enclosed environments.
Her project was inspired by the reality that students in classrooms have lower energy levels during the winter months. Because the classrooms have a number of bodies and students are not outdoors as much, carbon dioxide builds up inside the room and oxygen levels are lowered.
The student become lethargic and Ehart wanted to study how simple strategies for increasing oxygen in the room would help.
Another water pollution study has been conducted by Noemi Correa. She has been studying the biology index of three different Lower Yakima Valley ponds and conducting trials using nets to catch macro-invertebrates.
These microscopic creatures collect on leaves in water and can indicate the effects pollution is having on the eco-climate and biology index of a body of water.
These are examples of the science projects to be viewed and judged this coming weekend. Sunnyside High School will conduct its fair in the library and the middle school projects will be displayed at Harrison Middle School.
Projects at the high school will be available for the community to view next Monday, March 2, from 7:45 a.m. to 2:15 p.m. and from 6 to 7 p.m.
At 7 p.m. the students from Harrison and Sierra Vista middle schools will join those from the high school in Sunnyside High School's auditorium to receive their awards. It is a free event and the public is welcome to attend in support of the young scientists.