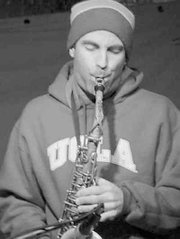 "Third Occasion" is the latest release from saxophonist/composer David Binney.
Helping Binney on the effort is Scott Colley on bass, Craig Taborn on piano and Brian Blade on drums. An all-star brass section is led by trumpeter Ambrose Akinmusurie, Brad Mason on trumpet and flugelhorn, and Corey King and Andy Hunter on trombone.
The effort is clean, tight and easy to listen to. All the instruments mesh well together and Binney can take credit for that, since he is the composer.
The CD is a seven-song effort and features Binney's voice via his saxophone. I'm not sure haunting is a good description of his sound but it does stick with you.
According to his bio, Binney is one of the up and coming musicians on the jazz scene today. He has won praise from critics and colleagues alike for his adventurous style of playing original music.
Songs like This Naked Sunday could be in any soundtrack to an Alfred Hitchcock film. Squares and Places picks things up a bit with a more upbeat tempo that will have you shaking your head, stamping your feet and snapping your fingers.
Binney was born in Miami, Fla. and raised in Southern California. His love of jazz dates back to his childhood, when the music of Coltrane, Miles Davis and others was introduced to him by his parents.
At the age of 19 he began to study the saxophone. He eventually moved to New York City where he studied with Phil Woods, Dave Liebman and George Coleman.
Since then, Binney's sound has been heard all over the world and has been sought for such projects as recording with Medeski, Martin & Wood. He has also appeared at Carnegie Hall with Aretha Fanklin.
Binney has produced all of his own albums and started his own record label, Mythology Records, in 1998.