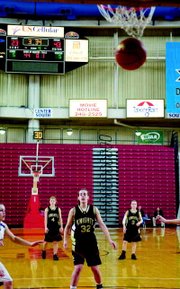 YAKIMA - For the second straight day at the 1B Washington State Girls Basketball Tournament, the Sunnyside Christian Lady Knights held their opponents to single-digit scoring in all four quarters. That led to a workman-like 48-29 victory Thursday evening over the Columbia Lions.
Coupled with Sunnyside Christian's 54-16 win over the Mary M. Knight Owls on the opening day at State Wednesday, the Lady Knights now find themselves in the semi-finals against Washington's top ranked Colton Wildcats. Colton (22-0) and Sunnyside Christian (19-5) are slated to meet in the Yakima Valley SunDome tonight at 6 p.m. The winner of that contest advances to the 1B State title game Saturday evening.
If the Lady Knights are to get past Colton tonight, they're going to have to play one whale of a game.
"We're going to have to play a great game, no doubt about it," said Sunnyside Christian Coach Al Smeenk. "We haven't faced anything like this before. Colton, they're the whole package."
Smeenk said the Wildcats, who placed second at State last year, are quick and like to run. Colton's players also like putting up the bombs from way outside.
"Their first look is the three, and everybody on the team has a green light," said Smeenk.
To make matters worse, Colton also has a strong inside game to make up for those nights when the long-range shots aren't falling. "They have a couple of 5'9" and 5'10" posts who are pretty decent in the paint," Smeenk said.
The Wildcats also like to spread out their opponents with skip passes, lobbing heaves from one side of the court to the other.
However tonight's semi-final game turns out, the Lady Knights will enter the fray knowing they'll be bringing a State tourney trophy home with them. That honor is guaranteed, based on their victory over the Columbia Lions last night in the quarter-finals.
The two teams played to a 9-9 first quarter draw, thanks in part to Lady Knight senior Abby Bangs pushing in four of her nine points that period.
Sunnyside Christian wasn't able to shake the Lions until the second quarter, however, when Smeenk pulled his players out of their man defensive coverage and switched to a 2-3 zone.
"We had to give them a different look, something else to think about," Smeenk said of the switch in defenses.
Unable to exploit the Lady Knights' zone coverage, Columbia went cold from the field, allowing Sunnyside Christian to go on a 12-3 run. The Lady Knights then patched together a 5-3 scoring advantage in the last two minutes of the opening half to take a 26-15 lead into intermission.
The Lady Knights put their official stamp on the game with a 12-6 scoring burst in the third quarter, wrapping up the quarter-final tilt by outscoring Columbia 10-8 in the final stanza.
Sunnyside Christian's scoring leaders against the Lions included the quartet of Melanie Van Wingerden, Bangs, Hilari Bosma and Kelly Newhouse.
The 5'10" Van Wingerden, the team's leading scorer this season, dropped in a team-high 10 points on 4-of-9 field goal shooting, which included sinking both of her free throw attempts. She also led the Lady Knights on the boards with a 12-rebound effort.
Bangs, the club's starting point guard at only 5'2" tall, was 4-for-6 from the field and 1-for-2 from the charity stripe in tossing in nine points.
Bosma, playing sick Thursday evening, came through with eight points on mediocre 3-for-10 field goal numbers, although she did make 2-of-3 from beyond the three-point arc.
Newhouse scored eight points as well, going 3-for-4 from the field and 2-for-3 from the foul line.
Also scoring for Sunnyside Christian were Joleen Van Wingerden, Renee Dalrymple and Julie Long with six, four and three points, respectively. Teammate Erika den Hoed added a team-high three-assist performance against the Lions.
Columbia was paced by Krista Colvin, who scored 20 of her team's 29 points.
Should Sunnyside Christian defeat the top-ranked Colton Wildcats tonight, the Lady Knights will play in Saturday evening's championship game for first and second place honors. A loss to Colton Friday evening would propel Sunnyside Christian into Saturday afternoon's third/sixth place game.