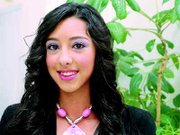 A 4.0 GPA student at Sunnyside High School, Marisol Garcia, wants to apply her hard work as a candidate for Sunnyside's Miss Cinco de Mayo crown.
Garcia, who turns 16 today, is a sophomore at Sunnyside High, where she participates in soccer and the Latino Culture Club.
She's aiming for the crown as a way to be a role model.
"When I was small I looked up to my elders," she says. "Now I want to set an example to young girls."
Garcia said she was encouraged to become a candidate by the current queen, Jazmine Salmeron.
"I've been wanting to do this since I was a freshman," she says.
If selected Miss Cinco de Mayo, Garcia says she will focus her community service project on joining Transformation Sunnyside in an effort to eliminate violence in the Sunnyside community.
She says she appreciates the way the group prays for and blesses people in the Sunnyside community.
The daughter of Juan and Mirella Garcia, she says her favorite class at SHS is world history.
Besides her involvement with soccer and the Latino Culture Club, Garcia says she also enjoys dancing and helping out at her mom's day care. She said dancing will be her talent during the Miss Cinco de Mayo Pageant coming up in April.
After high school, Garcia says she plans to attend either WSU or UW and major in law and justice. "I want to be a lawyer," she said.
Garcia says her parents have been a great influence in giving her the confidence to be a candidate for the 2009-2010 Miss Cinco de Mayo court.
"They tell me to keep going, never give up," she said. "They're always there for me."
Garcia says participation in the Latino Culture Club has also helped her acquire some attributes that could serve her well in the future.
"I'm not really shy and I voice my opinions," she said of her participation in the club. "It's helped me to do better at communicating."
Garcia and the seven other Cinco de Mayo candidates will vie for the 2009-10 crown during a Hawaiian-themed pageant on Friday, April 17, at 7 p.m. in the high school auditorium.