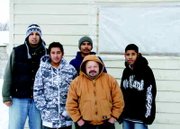 Wanting to give youngsters in Lower Yakima Valley communities a positive outlet, Round 3 Boxing Founder Hiram Cantu began seeking support from law enforcement, school districts and municipal leaders in 2007.
The cities of Sunnyside and Grandview are two of those communities, and he recently obtained the go-ahead to utilize Grandview's Compass High School gymnasium to begin the program there.
"Sunnyside has been more difficult because there are so many organizations, with a need for funding, in place already," said Cantu, noting one nun with Sunnyside's St. Joseph's Catholic Church and Nuestra Casa has been a strong proponent of the program.
Grandview, however, will get its program started in January as he continues to seek facilities in the community of Sunnyside.
Cantu's program got its start when he approached the communities of Wapato, Toppenish and Zillah with the idea to provide an activity that promotes strong minds and character.
"A smart boxer is a smart student," he said, stating the goal of Round 3 Boxing is to help youngsters struggling both academically and in their after-school activities.
"There is a gap for kids not succeeding in school," Cantu explained, saying he approaches school leaders, asking what activities are available for youth not meeting grade requirements for school sponsored sports and activities.
He said the youngsters struggling with academics often do not have a positive outlet outside school and often turn to gang activity. He stated gangs are an avenue in which the youngsters find acceptance and keep busy.
But, through Round 3 Boxing, those youngsters are kept busy in many positive ways. They receive tutoring before training for the ring. When the youngsters train, they are taught focus, discipline and hard work have a multitude of benefits.
At its inception, the program received $5,000 worth of equipment from Zillah's crime prevention funds with the assistance of the community's police chief. The program began serving youth in Zillah, who had been referred through agencies such as DSHS.
The community of Granger also saw the benefits the program would provide its youngsters and provided $1,500 for Round 3 Boxing to establish itself there.
"Kids like boxing," Cantu commented, adding he enjoyed the sport when he was a youngster. He said he learned and benefitted from the sport and wants to share the experience with youngsters in the valley.
Adding to the benefits of the sport, Round 3 Boxing coaches don't just involve themselves with the youngsters once they walk through the door. They keep an open line of communication with school officials and police. The coaches keep tabs on the academic progress and outside activities of the youngsters even when they are not in the gym, according to Cantu.
"The kids sign a contract," he explained, stating the youngsters involved with Round 3 Boxing agree to stay away or disengage themselves from gang involvement.
"This is a safe haven for kids wanting to stay out of or get out of gangs," said Cantu.
As a graduation specialist, he said his ultimate goal is to motivate youngsters already labeled "failures" to become success stories.
Cantu wants those involved with Round 3 Boxing to know there are people who care about them and have their best interest in mind. "The problem with gangs is the kids get it in their mind that the gang is their family...we become their family," he said.
In doing so, he hopes to also bridge the gaps between schools, law enforcement and the youngsters involved in the program.
Round 3 Boxing is open to all who are interested in it, ages eight to 21, but it is primarily focused on those youngsters who are academically ineligible for school sports and activities.
Grandview's Compass High School gymnasium will be open Thursdays from 3:30 to 5 p.m. for those interested in the program.
Grandview graduation specialist Ben Gonzales is excited about the prospect of the program in the community.
He said he learned of the program because he works with Cantu through Building Bridges, a drop-out prevention program.
But, the real connection for Gonzales came when a single mom, seeking to get her son out of gangs and back on the right track, needed assistance.
She had Gonzales meet with her son and when the two were unable to "connect" in a way that the youngster was open to suggestions, Gonzales asked him what his interests were.
"He told me he liked boxing and I told him I knew someone who might be able to help him with that," said Gonzales.
He had the youngster meet with Cantu. The result of the young man's involvement with Round 3 Boxing has been a noticeable improvement in the youngster's attitude, his attendance has improved and his grades are beginning to show improvements.
"The biggest change has been his attitude...he was shy and withdrawn," said Gonzales, stating the youngster has come out of his shell.
Because the difference for the one young man has been such a positive change, Gonzales shared the young man's story with the Grandview Coalition, made up of city and school officials.
He invited Cantu to explain the purpose of the program and the community leaders thought it a worthy venture, opening Compass High School's gymnasium to the program.
The program is also affiliated with USA Boxing, and adheres to guidelines set by the organization.
For more information about Round 3 Boxing, Cantu can be contacted at 509-460-2768.