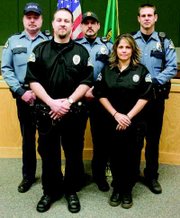 Six employees with the Sunnyside Police Department were honored in early December for their service by the Sunnyside Police Association.
Sgt. Joe Guillen was recognized as the Supervisor of the Year and was also given the Ely O'Brien award. Guillen has been with the department for the past 29 years and according to Sunnyside Police Department Administration Assistant Charlotte Hinderlider, he is a fair and easy going person who is well respected by people in the department, and the Sunnyside community.
Guillen teaches a bilingual driver's education class through Nuestra Casa in Sunnyside as well, and was also recognized as Sunnyside's top supervisor in 2002 and 2003.
"He always helps us out and teaches us a lot," Jim Williams, lieutenant of the Sunnyside Police Reserves, said of Guillen. "He makes sure we're accommodated."
Williams himself was also recognized this year by the police association. Williams was given the Steve Evans Extra Mile award. Evans was a former Sunnyside police officer who died of natural causes while off duty. Williams said Evans was also the first liaison officer between the Sunnyside reserve police force and the administration.
Sunnyside Police Officer Skip Lemmon was named Officer of the Year at the annual police banquet Dec. 9. Hinderlider said Lemmon has been with the department for the last nine years and is a past Explorer advisor and range instructor.
Sunnyside Corrections Officer Gabino Saenz was named Corrections Officer of the Year for the third straight time. Saenz is known as a hard worker who is pleasant and professional at all times.
Hinderlider added that Saenz gives 110 percent at everything he does, simply because it is his job. He does this without expecting any additional praise or incentive, she said.
Mary Flores has been with the Sunnyside Police Department for the last 16 years and she was given the Dispatcher of the Year award in December. She has won this award nine times since 1999, according to Hinderlider.
Being a dispatcher can be a very stressful job, but Flores handles her duties with professionalism and courtesy at all times, according to Hinderlider.
Rounding out the list of award winners is Johnny Poteet, who was named Reserve Officer of the Year. Poteet also took home this award in 2006.
Poteet volunteers a lot of his time to the Sunnyside Police Department and Hinderlider said he is willing to step up whenever help is needed.