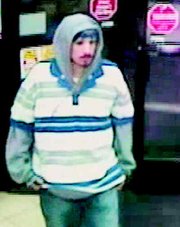 Gunfire erupted at the AM/PM convenience store in Sunnyside Saturday night that left one man dead and two wounded.
At approximately 9:15 p.m. on Saturday police say they were called to the mini-mart at 1850 Waneta Road for a report of shots fired. Upon arrival it was determined that several people in two vehicles confronted each other with gunfire, leaving two injured and one dead.
The deceased victim was 22-year-old Jesus Tlaseca Sosa of Sunnyside. Wounded at the scene were a 16-year-old juvenile male from Schawana in Grant County and 20-year-old Manuel Farias of Grandview. Farias had fled the scene on foot and was later picked up by police. He was treated at a local hospital and then taken to the Sunnyside Law and Justice Center for questioning.
At this time police have not recovered a weapon and police believe there is only one shooter. Police also believe this incident to be gang related.