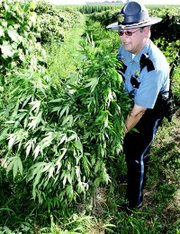 Now that 2008 has come to pass, how did Lower Valley cities fare when it comes to crime? Sunnyside, Grandview and Mabton saw a collective decline in major crimes.
In Sunnyside, calls for service for major crimes went from 1,484 in 2007 down to 1,302 in 2008. Motor vehicle thefts and robberies were up in Sunnyside in 2008 over numbers from 2007, but forcible rape and assault reports declined.
Charlotte Hinderlider, administrative assistant at the Sunnyside Police Department, said the 2008 numbers are likely to change a bit after officials look at the numbers and make any changes or reclassifications needed.
The Sunnyside Police Department received 266 reports of stolen vehicles in 2008, up from a reported 212 stolen vehicles in 2007.
Reports of robbery also jumped from 2007. In that year police received just four reports of robbery. In 2008, 14 robberies were reported.
Criminal homicides also slightly increased in 2008 to two. In 2007 only one criminal homicide was reported.
The good news is that crime statistics declined in all other crime categories.
Only two forcible rapes were reported in Sunnyside in 2008. That is down from six that were reported in 2007.
Assaults were down as well, with 186 reported in 2008 compared to 239 reported in 2007. Of the 186 assaults reported in 2008, 11 of them were with firearms.
Petty larceny (thefts) and burglaries were also down. According to numbers provided by Hinderlider, there were 571 reported thefts in 2008, down from 746 the previous year. For burglaries, Sunnyside saw 261 in 2008, down from 276 reported in 2007.
The Sunnyside Police Department reported one officer was assaulted in 2008, down from three in 2007. In addition, five arson cases were reported in 2008 compared with 11 in 2007.
The Grandview Police Department ended 2008 with an interesting twist, as total calls for service dropped tremendously, with 7,559 logged in 2007 and 6,655 logged in 2008.
"The glaring fact is that we are down by 900 cases in 2008," said Grandview Assistant Police Chief Mark Ware. "We seemed as busy as ever, but our case number volume was down by 12 percent."
As with Sunnyside final numbers, tallying crimes isn't an exact science in Grandview, either.
In terms of weapon offense calls, Grandview had 55 in 2007 and 69 in 2008.
"Understand that a weapon offense can be anything from a kid bringing a knife to school, to somebody carrying a bat down the street, to somebody possessing a firearm," Ware said.
Ware said that of the 69 weapon offense calls for service, 19 involved something where the police could confirm a firearm was used, like bullet casings and bullet holes, or someone being shot. And, he added, "Twenty seven cases involved the gang tag, which means a gang member was somehow involved, not just with guns, but with anything that was a weapon."
One of the major changes within the Grandview Police Department last year was the devotion of a detective to all gang-related crimes. Rick Abarca serves in this capacity.
"(He's) really an absolutely huge asset," said Ware. "(He) has educated himself on gangs and he knows a lot about them. He focuses specifically on crimes that gangsters are involved in and he is the major reason we have been so successful at solving a number of the serious gang-related crimes, like drive-by shootings and felony assaults."
Grandview began coding gang-related offenses in March 2007, so Ware reviewed statistics from June to December 2007 and found that there were 45 gang-related crimes in that six-month period. In 2008 in that same period of time, Grandview tallied 143 gang-related cases, and finished out the year with 377.
Ware said officers made a tremendous effort in 2008 to contact gang members for any legal reason. "Essentially we were letting them know we were watching them all the time."
He said while it may appear there was more gang activity in 2008, part of the reason the numbers may be higher is because Grandview police were far more proactive in 2008 than they ever had been.
Of gang-related activity in Grandview, Ware credited Abarca's tenacity for many crimes solved.
"After we arrested several people, served several search warrants and vigorously stayed after them, things quieted down around here quite a bit," Ware said.
Regarding other calls for service, there was a sharp decline in calls due to animal problems. There were 590 calls in 2007 and 396 in 2008.
The current numbers also reflect a sharp drop in the number of reported burglaries, with 144 in 2007 and 91 in 2008.
Graffiti reports, too, were down in 2008, with 195 cases reported in 2008 and 309 reported in 2007.
Malicious mischief calls in Grandview remained almost the same, with 79 cases reported in 2007 and 77 reported in 2008.
Alert Grandview residents reported 331 incidents of suspicious activity in 2008, compared to 203 reports in 2007.
When Robert Perales joined the Mabton Police Department, he began tracking crimes through the Spillman program used by law enforcement agencies. This allowed Perales to compare calls for service between 2007 and 2008, which had not previously been done.
Mabton, too, had less calls for service in 2008, finishing out the year with 1,331 compared to 2007's 1,452 calls for service.
"For the most part, crime was reduced in most areas, (like) burglaries and thefts," Perales said.
He said that in 2008, drugs were a major focus for the Mabton Police Department.
"With major assistance and the forwarding of information to the Law Enforcement Against Drugs (LEAD) task force, we were able to uncover what's probably considered some of the most major marijuana drug operations in Mabton and the Lower Valley," Perales said. "By providing such information to the task force, (we) were able to successfully expose these operations."
There was a notable spike in cases tagged for cocaine, with eight cases reported in 2007 and 14 logged in 2008.
Graffiti was a tremendous problem in Mabton in 2008. According to information provided by Perales, there was one case reported in 2007, but 32 incidents in 2008.
"Graffiti was another major issue...but with the help of some very observant citizens, we were able to make an arrest on most of the incidents," Perales said.
Perales said that gang monitoring is constant in Mabton. There is steady monitoring, gathering of information and anti-gang education efforts in the schools. Because of this, Perales said it has led to "a surprisingly low presence of gang activity in our city."
Mabton was able to provide 24-hour police coverage in 2007, but budget woes changed this in 2008.
Perales said, "By losing (that) coverage in 2008, our efforts to control crime has become increasingly difficult, especially during times when there is no law enforcement presence at all in the city.
"Officers at times are working longer hours and also at times are backlogged with pending calls for service for times when there has been no officer on duty."
Perales added, "Criminals don't work shifts the same as police officers."
Perales said the future is uncertain for 2009.
"With further cuts in the police department tentatively made by the city, it will be even more difficult to provide the basic necessary police services.
"For the past several years, Mabton's crime rate has decreased to the point that it's no doubt one of the safest communities in the Lower Valley. But with cuts on police protection on the table in 2009, Mabton could no doubt easily become one of the worst crime cities in the Lower Valley, infested with drugs, gangs and violence."
At a Dec. 30, 2008 Mabton City Council meeting, Perales's part-time position as police chief was cut out of the budget. No other cuts to the police department were made. As of press time, Mayor Velva Herrera has ordered he remain in the position until further notice.