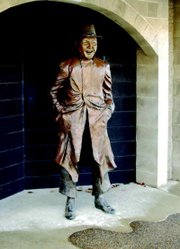 With three bronze statues under their belt, Sunnyside's Bronze Society is looking ahead to 2009 and future projects.
The bronze statue effort gained momentum during Sunnyside's centennial celebration in 2002.
First there was pioneer cattleman Ren Ferrell's statue at Snipes Park at the corner of Grant Avenue and Fourth Street. That was followed by a bronze statue at Centennial Square honoring Lloyd Miller, considered the driving force in bringing irrigation water to the Lower Valley.
In 2007 a third life-sized bronze statue, "Morning Chores," was unveiled near Fifth Street and Edison Avenue commemorating the contributions by pioneer children. The third statue is unique in that it is the first to employ permanent coloring in the bronze.
Looking forward, the society in February plans to erect a pair of plaques at the "Morning Chores" site, one listing the statue's sponsors and another plaque providing background information on the piece.
The Foundation for the Community of Sunnyside is leading the way in funding the statues, which also relies on individuals to purchase bronze miniatures of each of the sculptures to fund the projects.
Bill Flower, a member of the Bronze Society, said other plans for 2009 include erecting a smaller, rustic statue honoring the area's families who wintered sheep here between 1890 and 1950.
"We hope to get that one done this year," he said. The statue would be of a different material than bronze, Flower indicated, and would be more rustic in nature.
Given that and the fact it's smaller, Flower said the sheep family statue will be funded by private donation rather than selling miniatures.
The statue will likely be placed somewhere on Fifth Street between Grant and Edison avenues, what Flower calls "statue row."
Also on the drawing board, with work possibly starting in 2009, will be a relief attached to the large cement monument at Central Park across from the Sunnyside Museum. Flower said the relief would honor Sunnyside's founding families; the Rowlands, Lichtys and Harrisons.
"That's been in the talking stage for a couple of years," said Flower. Same goes for a proposal to erect a bronze statue honoring Outlook native Bonnie Dunbar, a former space shuttle astronaut.
"We'd like very much to start raising money for that in 2009," he said. "We're hoping to have a clay model done for Bonnie Dunbar this year (2009)."