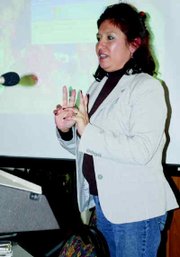 In 2002, Cascade Natural Gas asked Sunnyside's Chris Rivas to manage a customer call center for its operations.
She was surprised at the request, especially when the president of the company informed her she had eight weeks to implement the project.
"The original plan was to seat three customer service representatives," Rivas explained to Sunnyside Noon Rotary Club members Monday.
That plan quickly expanded to employ seven people to process and generate work orders from builders requesting the installation of natural gas services.
Those customer service representatives communicate with builders throughout Washington and Oregon. They process customer acquisitions via phone, fax and internet communication with builders.
"Builders benefit from calling one call center in an efficient, streamlined process," said Rivas.
She said service lines are installed in a more expedient manner and 97 percent of the work order process has been improved since the call center originated.
Rivas said her company now contracts with more than 1,250 builders throughout the northwest and that number is growing as a result of the service provided through the call center.
Because the builders have grown familiar with a designated customer service representative, Rivas explained a level of trust has been established. "The builder knows they are talking with a real person," she said.
Upon the completion of services, builders are sent a confirmation letter to further communications between them and the call center.
Rivas said Cascade Natural Gas is also better able to monitor and measure service provided to its customers through logging in request forms and monitoring its calls.
She said the improved operation process and efficiency enables customer service representatives to serve a greater number of new customers than Cascade Natural Gas was able to serve prior to the implementation of the call center.
In addition, errors in the processessing of customer acquisitions have been reduced to nearly 5 percent since 2002. That has earned Cascade Natural Gas a reputation for its service and demands for the services have increased.
In 2007, Cascade Natural Gas added a customer service representative for its maintenance services and in 2008 another representative was added to serve customers seeking conservation services.
Because of its success and growth, Rivas said the Sunnyside location is currently under construction. "You may have noticed the building doesn't look so good right now," she joked with the Rotarians.
She went on to say Cascade Natural Gas' parent company is now seeking her expertise in establishing call centers for its other divisions because the Sunnyside center has proven to be a success.