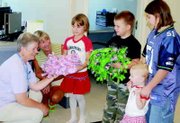 GRANDVIEW - What started out last summer as a vacation Bible school project in making blankets for Project Linus has grown into an ongoing ministry at Grandview Christian Church.
Project Linus collects brand new blankets and distributes them to children facing illness or emergency situations. The organization has a drop-off point at the Sunnyside Fire Station.
Grandview Christian Church is the first drop-off station in the city of Grandview.
The church's children created Project Linus blankets as a summer service project last year, and since then the church has volunteers who make blankets once a month.
Grandview Christian Church is located at 310 Euclid Avenue and is open to the public for blanket drop offs each Sunday from 9 a.m. to 12:30 p.m. and every Wednesday from 5:30 to 7 p.m.
Barbara Walters is the director of a Project Linus chapter in South Grant County that also serves Yakima County.
The expansion of drop-off points is one way Walters hopes to see an increase of volunteers to make and collect the blankets.
Once collected, the blankets are given Project Linus's trademark label and ribbon.
For more information about the blanket program or to help out, call Walters at 509-832-2331. Information on Project Linus and its blanket needs is available at www.projectlinus.org.
Information is also available at www.grandviewchristianchurch.org.