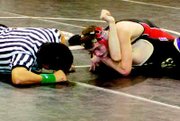 The Sunnyside High School wrestling team improved its league record to 3-1 last night with wins against Hanford and Walla Walla.
The Grizzlies only dropped three matches in its 60-13 win over the Hanford Falcons.
After starting the match with a loss Sunnyside reeled off nine straight wins.
Hanford struck first blood when Aaron Fenton (171 lbs.) pinned Sunnyside's Lupe Mendoza in 5:03. After this the Grizzlies went on a roll.
Adrian Ramirez (189 lbs.) received a forfeit. Alex Isiordia (215 lbs.) pinned Hanford's Paul Mettille in 3:30. Christian Reyes (103 lbs.) dominated Hanford's Will Bricker 26-12. Reyes had 13 takedowns in the match.
At 112 lbs. Sunnyside's Steven Romero received a forfeit and then Kevin Alvarez (119 lbs.) pinned Hanford's Hayden Gaylord in 3:15.
Juan Barajas (125 lbs.) kept the ball rolling for Sunnyside when he scored a major decision against Travis Hubbard, 12-1. Sunnyside's Nick Martinez (130 lbs.) then received another forfeit for the Grizzlies.
Shawn Olivarez (135 lbs.) pinned Hanford's Mike Rorie in 5:42.
The Falcons then strung together two victories in a row.
Caleb Gifford (140 lbs.) beat Sunnyside's Baltazar Avalos 8-2 and Mike Ruana (145 lbs.) beat Sunnyside's Leroy Rodelo 14-1.
Caleb Gomez got Sunnyside winning again in the 152-lb. match. He beat Joe Traverso 2-0. Closing out the match was Sunnyside's David Huizar (160 lbs.), scoring a pin against Thomas Ruane in 5:32.
"It was a pretty good match," Sunnyside Coach George Paulus said of his team's win against the Falcons. "I thought it would be closer."
In the match against Walla Walla the Grizzlies had a tougher time but still bet the Blue Devils 48-22.
The match started with the 189-lb. weight class with Walla Walla's Eric Eastman pinning Ramirez in 5:33.
Isiordia scored Sunnyside's first win against the Blue Devils in the 215 lb. weight class when he pinned Joel McClure in 1:48.
Paulus said Isiordia was a fill-in for last night's matches and did a good job, scoring two pins.
Peters (285 lbs.) then beat Walla Walla's Gerald Maib 15-5. That was followed by Reyes (103 lbs.) receiving a forfeit.
Romero (112 lbs.) scored a technical fall against Walla Walla's Aaron Nelson 18-3. In the 119-lb. weight class Alvarez received a forfeit.
The Blue Devils fought back in the 125-lb. match. Dustin Taylor pinned Barajas in 2:31.
The Grizzlies then scored two pins in a row. Martinez (130 lbs.) pinned Anthony Stalder in 4:19 and Olivarez (135 lbs.) pinned Shey Swedin in 3:22.
Walla Walla's Ryan Harmon (140 lbs.) decisioned Avalos 4-2 in the next match and Sunnyside's Rodelo (145 lbs.) was beaten soundly by David Marquez, 17-4.
In the 152-lb. match Gomez beat Walla Walla's Ryan Evans 11-4. Trey Hines (160 lbs.) of Walla Walla then scored a decision against Huizar, 11-6.
Rounding out the match was Mendoza (171 lbs.), pinning Walla Walla's Aaron Kershaw in 5:04.
"It was a good night," Paulus said. "We did well."
Sunnyside will travel to Yakima Thursday, Jan. 8, for another double-dual match with West Valley and Eisenhower.