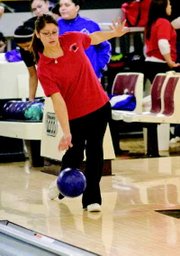 Despite a 318 two-game series from Maleesha Maltos, the Sunnyside High School girls bowling team got swept 4-0 by the visiting Pasco Bulldogs yesterday afternoon.
Tuesday's loss was the Lady Grizzly keglers' eighth of the season in as many competitions.
Maltos opened the prep contest by rolling a match-best 182. She got support from teammate Marissa Martin with a solid 151, but none of the other Lady Grizzlies could finish higher than 130 in the opening game.
Pasco, on the other hand, had four bowlers at 147 and above, including Angie Yzaguirre with a team-best 180. That led to a 789-716 Bulldog victory in game one.
Yvette Yzaguirre tossed a 174 to lead the Bulldogs to a 767-662 victory in the second game. In the losing cause, Sunnyside's Marisol Canales turned in the top effort, rolling a 160.
Pasco locked up the 4-0 sweep by winning both Baker games, 160-156 and 147-132. Baker bowling calls for each member of the five-girl squads to alternate taking turns throughout the 10 frames.
In JV action yesterday, Sunnyside notched its first win of the year, defeating the junior varsity Bulldogs, 3-1. Susana Carrasco had the top effort for the winners on games of 116-164.
The SHS bowling team is scheduled to take on the Chieftains in Moses Lake this coming Thursday.