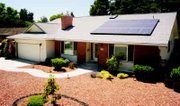 GOLDENDALE - Seraphim Energy in Goldendale has seen a recent increase in customers wanting to install solar energy systems.
Owner Jonathan Lewis said the increase in demand is due in part to customers wanting energy security and economic values.
He said the systems increase the value of a home and the state provides an incentive of 15 cents per kilowatt hour for all power harnessed and produced by solar panels.
There are customers who seek the "green" value solar energy provides, but the majority of the customers seek to reduce the money spent on energy.
Washington state implemented its energy incentive in 2005 and it is in effect until 2014.
Lewis said his business began small. He lives in Goldendale and, as an electrical contractor, decided to install solar panels on his residence. Others learned of his experience with the systems and asked him to install panels on their homes. As he gained expertise, his company grew to provide the services to more customers. Now, 75 percent of Seraphim's business is installing solar energy systems.
Upkeep of the systems is minimal, according to Lewis. He said rinsing the panels off is all that is involved in maintenance. "The modules are warrantied for 25 years, but I know of originals built in 1953 that are still working," he said, stating solar system equipment is essentially good for a lifetime.
Most systems are "grid tied" solar panels. This means the system is installed on the rooftop of a home with an inverter box that changes DC power to AC power, providing that power to electric companies.
"This makes meters virtually run backward," said Lewis, stating the customer is then provided a credit by the power company.
Of the systems he has installed, 10 have been off-grid systems and some have been small wind turbine systems.
Seraphim Energy serves customers throughout Northern Oregon and Central Washington, from Naches to the Tri-Cities.
Lewis said the average size of a system is a 3 kilowatt system, servicing a three-bedroom home. The cost of such a system is approximately $27,000, but the savings add up.
Seraphim Energy can be contacted at www.seraphimenergy.com or by phone at 800-265-6288 for inquiries regarding solar energy systems and installation.