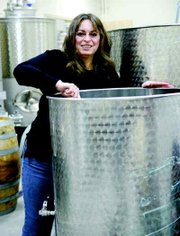 GRANDVIEW - The Washington wine industry has seen dramatic growth over the past eight years. The state has grown from 150 wineries to almost 600, making Washington the second largest wine-producing state in the country. With this growth comes an increasing demand for skilled workers.
In a recent survey sponsored by the Washington Wine Commission and conducted by Seattle-based consulting firm FutureWorks, surveyed businesses said they expect to hire additional employees, across all levels of training, over the next five years. The survey results, which were presented at the Washington Wine Institute in November, identified a growing employment demand for the wine industry.
Jobs highlighted as areas of greatest need were in wine grape vineyards, wineries, marketing and sales. Many growers have seen steady growth in assistant vineyard managers and are looking at looming shortages in employees.
There is also a need for viticulture technicians. Wineries are worried about potential shortages for assistant winemakers, lab technicians, cellar workers and administrative personnel. In the marketing and sales sector, the projected demand is for marketing specialists. Each of these areas will exceed the supply of graduates from Washington colleges within the next five years.
YVCC offers a solution to these looming shortages by providing educational opportunities to students through the Vineyard and Winery Technology program located in Grandview.
Focused on training students for industry demands, the curriculum emphasizes hands-on practical training. Degrees are offered in vineyard technology, specializing in the integrated management of insects, weeds, diseases and crop production, and in winery technology, specializing in providing students with an understanding of principles and the application of technology associated with the production of wine. Opportunities to earn one-year certificates are offered in the areas of vineyard technology, winery technology and wine sales.
An example of education in practice is YVCC's Vines, Wines and Dollar $igns learning comunity taught by Trent Ball, Gary Cox, Christi Kitt and Carol Schneider. Learning communities are a grouping of courses from various disciplines combined together and team-taught by YVCC faculty.
This particular learning community, consisting of the classes Terroir of Washington, Introduction to Washington Wines and Wine Marketing, tasked students with choosing an area in the state that was not a current federally recognized American Viticultural Area (AVA), but did have the unique geographic, soil and climate conditions that would make it a viable candidate for recognition as Washington's 10th AVA.
Two YVCC students, Carol Wiedeburg and Kathleen Kinkead, participated in the learning community and were given the opportunity for hands-on, real-world experience.
"Carol and Kathleen took my class to heart, researched the Alcohol and Tobacco Tax and Trade Bureau process and pulled the required information together to submit a package necessary for the approval of Naches Heights AVA status," said YVCC Instructor Gary Cox. "When the package was returned requesting additional information, these students again seized the moment and gathered the requested information necessary to get the package further reviewed," continued Cox.
"The students' work was instrumental in the initial development of a potentially new AVA," stated YVCC's Agriculture Department Chair Trent Ball. "That framework was then shared with several vineyard owners and wineries in Eastern Washington," continued Ball.
Washington state already has nine federally recognized AVA's for their distinct climates and soil features. What makes Naches Heights different is that all the vineyards are going organic. This past August the wineries submitted the final proposal to the federal government for AVA recognition. Many are hopeful that Naches Heights will become the 10th appellation sometime in the next year.
"This collaboration demonstrates the benefit of having a strong college curriculum based on Yakima Valley agricultural industry needs," said Cox. "The college is able to fill specific wine industry demands," he continued.
Yakima Valley Community College continues to provide opportunities for students enabling them to use the skills they learn beyond the walls of the classroom. "This is a great example of how our quality students were able to make real-world application of the material they learned in our program," stated Ball.
For additional information about Yakima Valley Community College's vineyard and winery technology program, contact Ball at 882-7007 or visit www.yvcc.edu/wine.