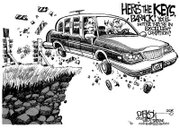 In less than two weeks President George W. Bush will leave the Oval office and President-elect Barack Obama will take over.
The change is something of which I am wary, but it will happen with many hopeful eyes watching.
President Bush may not have been the most popular of our country's leaders. But, I feel he served us well under horrendous circumstances and will miss his steadfast approach to ignoring his detractors. In spite of all the criticisms, he stood by his beliefs.
When our country faced great horror with the attacks on Sept. 11, 2001, our president stood before us, promising to see us through our grief. He stood firm, pledging to use all the resources available to him in order to see justice prevail.
No, he wasn't the most eloquent president. I also had issues with some of President Bush's policies.
But, I believe he acted as he believed was right given whatever information he had.
I wouldn't have wanted to be in his shoes through all our country has endured these past eight years. And, ask those who so strongly dislike President Bush whether or not they have all the facts and if they do, why don't they serve in politics?
I never presume to have all the facts. For those who feel we shouldn't have gone into Iraq...remember, Congress and the Senate were provided the intelligence and they too believed we were doing the right thing.
I would not want to take on the duties Barack Obama must see to once he takes the oath on Jan. 20. He will have a great responsibility to turn our economy around. I do pray for wisdom in his attempting to do so.
I understand the responsibility is not his alone. Both the Senate and Congress wield the power to reach an agreement on the methods utilized to bring us from recession to prosperity.
That is something I do understand...the President is one man with the power to veto a bill or sign off on it. But, ultimately, the House of Representatives must present a bill worth passing.
I pray Obama will also use wisdom in our dealings overseas. I do not presume to know the answers regarding Iraq and Afghanistan. I do know we must be very cautious in whatever measures are taken to ensure the integrity of leadership in both countries. I know we must be careful as to not leave these two countries in turmoil.
There is great unrest worldwide and Obama must weigh our ability to help versus our ability to cause further harm.
So, to President Bush...I say thank you for your service. To President-elect Obama...my prayers are with you.
- Jennie McGhan can be contacted at
509-837-4500, or email
JMcGhan@DailySunNews.com