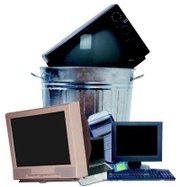 &nIn 2006, Washington state legislators passed a bill requiring manufacturers of televisions, computers and computer monitors to pay for recycling of such products.
Senator Jim Honeyford (R-Sunnyside) voted against the bill, which went into effect Jan. 1, citing the need for consumers to take responsibility of the disposal of products. "I felt if you buy something and wear it out, you should be responsible for its disposal," he said.
Washington is the first state to enact a law requiring manufactures to pay for the end-use of a product. Lawmakers felt the legislation was necessary because mercury and lead are common elements contained within televisions, computers and monitors.
Honeyford said, "This is an example of how Washington is being environmentally correct, but I feel it is an over-reach."
Because of the law, he feels manufacturers may increase the price of products sold in the state.
Honeyford did say the fact that consumers now have an avenue to dispose of electronics is positive. He said he felt the ability to throw items away without paying disposal fees could result in less waste, citing there may be a reduction in roadside debris and garbage.
"It is good to be wise with the environment," he commented.
The e-waste legislation requires manufacturers to pay businesses and locations that accept computers, televisions and monitors that have been disposed of.
The benefits extend to governmental agencies, such as school districts and municipalities with a population of less than 50,000.
There are several drop-off sites listed on Washington State Department of Ecology's website. Of those, the nearest site is at Yakima Waste Systems, located at 340 SR 223, in Granger. The Goodwill Zillah Food Center Donation Station is another site within Yakima County listed as an E-Cycle Washington site.
Those wishing to recycle old computers and televisions can drop off their electronics free of charge.