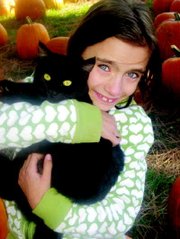 Last year, an earnest campaign was launched to save young Laynee Schneider's life by finding a kidney donor. It turns out the life saving answer was pretty close to home in Schneider's mother, Emily Golloday.
"It looks like I'm going to be the donor," said Golloday.
Laynee, a 10-year-old Sunnyside resident, was diagnosed with end stage renal disease a year ago and the search was on for a donor. In the meantime, the little girl has been getting dialysis treatments at home and maintaining a very strict diet.
Laynee can only consume 2,000 miligrams of sodium a day and a limited amount of fluids.
Keeping up with the sodium restrictions is difficult, says Golloday.
"You have to spread that between three meals and two snacks," says Golloday. "It's a lot harder than it sounds. A simple cheese stick can be between 50 to 100 miligrams of sodium." Simply put, if Schneider gets too much sodium, her kidneys can't filter it.
One big challenge for Laynee is that she loves salty foods. "She's always liked salty foods and has never been much of a sweet eater."
Golloday has removed temptation in the house by not stocking up on high sodium foods. "We do what we have to do."
Laynee's looking forward to the day when she can have salty foods again. When asked what she'll eat first, she responds, "Chips!"
An effort is currently underway for Schneider to gain weight, transforming her body from 44 pounds to 50 before the transplant.
Laynee's much smaller than other girls her age, but the recent addition of growth hormones to her medicine is working to change that. She's grown almost two inches since September, Golloday said. "It's almost like you can see her growing. Her legs and feet are getting bigger...It's kind of exciting."
Schneider still has a feeding tube, but Golloday has been trying to get her to drink protein shakes. It's rather difficult, as Schneider's not a big fan of the nutrition-packed drinks.
Golloday is also pushing juice instead of water, because juice has more sugar in it and more calories. Schneider can only have 26 ounces of fluids a day. When asked if Schneider ever gets thirsty, Golloday said she's gotten used to the restrictions.
"When you have a craving for something but you start weaning yourself off of it, you kind of stop craving it."
Golloday will return to Seattle in mid-January to meet with the transplant team and undergo a final series of tests. She said it looks like the transplant may take place in the early spring.
Laynee had been hoping to have her transplant complete by this past December so she could enjoy a "regular Christmas."
Now, she's focused on gaining weight, gaining strength, for before and after the transplant. One big motivating factor is that Laynee's eager to show her goat at the Yakima Valley Fair and Rodeo come August.
"I'm doing goats," she says, proudly. "You have to be really, really strong to show a goat because if they're a pain in the neck, they won't go where you want them to go."
She's looking forward to finally moving the dialysis machine out of her bedroom, too. Her room, she says, will be " a little empty. Empty because when I'm not using it, it's still in front of my dresser and I have to scooch it out of my way to play."
When asked if she's scared about her upcoming surgery, Laynee's quick in her response: "No! Excited!"
Golloday's not scared either. "Any time you have surgery you're a little apprehensive. But nervous...no. I'm excited for a new chapter in our lives. This last year has been a long one. It'll be nice to move on, open a new chapter."
Golloday's honored to be giving her daughter a kidney, a gift of life.
"Not everybody gets to do something this special for their kids," she says with a smile.