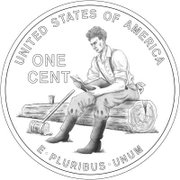 Last September, the United States Mint announced it would be circulating new penny designs, beginning Feb. 12, 2009.
The four new designs are to commemorate the bicentennial of President Abraham Lincoln's birthday, as well as the 100th anniversary of the Lincoln cent.
Every three months this year a new design will be released, honoring Lincoln's birth, early childhood, formative years and professional life. The first of the four designs will honor the late president's birth and early childhood in Kentucky.
The second penny to be released will honor Lincoln's years in Indiana, the third design honors his professional life in Illinois and the final design highlights his years as the nation's president.
The design changes will replace the Lincoln Memorial design, which has been in circulation for the past 50 years. Its release date was in commemoration of the 150th anniversary of Lincoln's birth.
The "head" side of the penny will continue to feature Victor David Benner's likeness of President Lincoln. That design was first released in 1909.
When the 2009 Bicentennial year is complete, the United States Mint will release pennies with a fifth design, emblematic of President Lincoln's preservation of the U.S. as a single and united country. Again the design will be on the reverse side of the coins.
Commemorative silver dollars are also being released this year to honor President Lincoln.