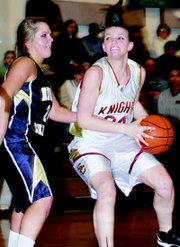 The Grizzly train rolled on for the Sunnyside boys this past weekend in a couple of double-digit league wins.
Sunnyside (4-0, 6-3) hosted Southridge on Friday and overcame a first half deficit to claim a 64-49 win over the Suns. Southridge's Andrew Mendenhall controlled the first quarter, scoring nine of his game-high 25 points to help the Suns to a 16-11 lead.
Southridge upped the lead to 27-21 at the half, before Sunnyside took over in a big way over the final two quarters.
"We changed defensively and made some adjustments on our press," Sunnyside Coach Ron Rowe said of his team's dominant 43-22 run over the Suns in the second half. The Grizzlies gained control for good in the third stanza by scoring 14 straight points.
Sunnyside kept the pressure on in the fourth with a tight defense.
The Grizzlies were paced by Israel Manzo's 17 points. Kyle Leija added 14 points for Sunnyside and Alfredo De La Barrera tallied 11 points. Tristan Abbott led Sunnyside in the paint with six rebounds to help the Grizzlies to a 33 to 26 rebounding advantage.
Rowe praised his team's balanced scoring, with six players scoring at least five points.
Balanced scoring was also the key to Sunnyside's 58-47 win at Kennewick on Saturday, as six Grizzlies tallied seven or more points.
Sunnyside used a 19-10 second quarter run to lead the Lions 26-17 at the half.
"Offensively we were a little more patient in moving the ball around," said Rowe. "They were jumping on us pretty quick with double teams in the post. We just started moving the ball more and started to break them down in different spots." Manzo keyed the second quarter surge with six of his nine points for the game.
The Lions roared back in the third quarter with a 14-4 run to take a 31-30 lead over Sunnyside in the stanza.
"They came out and hit some shots and we were a little slow getting out at the start of the half," Rowe said.
Sunnyside found its rhythm, though, outscoring the Suns 8-5 to reclaim a two-point lead, 38-36, heading into the final quarter.
The Grizzlies kept up the momentum in the fourth, outscoring Kennewick 20-11 to wrap up the game and the weekend sweep. Leija paced Sunnyside over the final eight minutes, scoring eight of his 10 points for the game.
De La Barrera led the balanced Sunnyside attack with 12 points, followed by Leija with 10. Manzo and Esqueda each scored nine points for Sunnyside.
Leija also recorded seven rebounds and six assists to spark Sunnyside. Abbott added five boards. "Kyle had a good, all-around game," Rowe said.
Sunnyside, undefeated in league play, seems to have a different hero every game, every quarter for that matter.
Rowe wouldn't have it any other way.
"It's been real good so far that we've been able to take advantage if someone tries to key on a certain (Sunnyside) player," he said. "We've been able to step up and force them to change their tactics."
Sunnyside returns to action this Friday at Pasco.