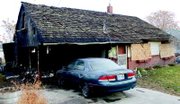 Sunnyside firefighters were called to a blaze in the 100 block of East Edison Avenue early Sunday morning that left a house destroyed.
Approximately nine firefighters responded to the blaze at 3:04 a.m. Firefighters have yet to determine the cause of the fire and a monetary amount has not be assigned to the damage.
The couple that lives in the home was out of town when the blaze occurred but a house pet was lost in the fire. Melissa Dekker, the owner of the home, said the house is a total loss with extensive fire and water damage.
"We're just thankful we weren't home," she said.