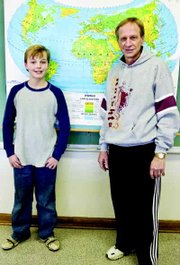 Local geography bee champ hopes to advance to state contest
by Corey Russell
Mexico City is located on the site of Tenochtitlán, the island capital of what empire that was conquered by Spanish explorers in the 16th century?
A pretty tough question for any adult, let alone a seventh grade student at Sunnyside Christian School. But Zachary Halma is no ordinary seventh grader and the young geography wizard calmly gave the answer as the Aztec Empire to win the geography bee at his school last week.
How did he feel?
"Excited, surprised," he said.
Excited because Halma will get a chance to compete in the State Geography Bee April 3 and surprised because according to Halma, geography is only his third favorite subject.
"I didn't think I'd win," he said. "There were a lot of smart people in the contest."
Halma's geography teacher, Al Smeenk, said the school has been holding a geography bee for several years. The competition is part of the National Geography Bee.
Halma competed against nine other students at Sunnyside Christian School. Two students each from the fourth, fifth, sixth, seventh and eighth grades competed in the contest. The two students from each grade level were picked from a run-off that each class held before Christmas break.
The state competition that will be held in April will only seat 100 students and Halma had to take a written geography test to qualify. Depending on how well he does on the test will determine if Halma moves on to the state competition.
If Halma can get past the state competition he will be invited to the national level of the National Geographic Bee, scheduled for May 19 and 20. There the top prize is a $25,000 college scholarship and $500 in cash.
"Zach reads a lot," Smeenk added. "He's an intelligent fellow. He has a wide span of interests."
Although Smeenk is Halma's geography teacher he doesn't take credit for his win.
"I've only had him for a half of a year," he said. "His prior teachers had a lot to do with it."
If Halma can get past April's state competition he might just be able to pull out the win in Washington D.C. at the national competition. He told the Daily Sun News that after a bit of research he learned that three national champions in the last eight years have come from Washington state, and all of them have been in the seventh grade.