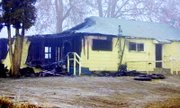 A stove malfunction is currently being eyed by Yakima County Fire District #5 firefighters as the cause for displacing five adults and four children in an afternoon fire yesterday, Monday, in the 2300 block of Van Belle Road.
According to firefighters, the residence is split into two apartments and the first apartment had fire coming out the front door and window. Fire extended into the attic and filled the second apartment with heavy smoke.
Javier Diaz is listed as the occupant of the first apartment and Jose Alfredo-Herrera is listed as the occupant of the second apartment. The exact owner of the structure is not known at this time, firefighters said.
No one was injured in the incident and the Red Cross has been called in to assist the families.
The Yakima County Fire Marshall's Office is investigating the fire.