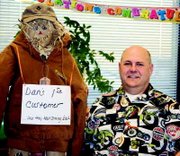 With the help of his co-workers, Dan Huff celebrated 30 years of working for Northwest Farm Credit Services.
Huff is currently the manager for community lending at the Sunnyside office. Friends from as far away as Pasco, Yakima and Spokane helped Huff celebrate his 30 years with the company late last week.
Huff began working for the company in Idaho. "In those days, it was Production Credit Association," he said. Eventually he traveled to Yakima, back to Idaho, then landed in Sunnyside.
Huff has seen many a financial crisis over the years, including the agricultural crisis of the 1980's "when many, many farms and S and L's went broke." He worked in the credit division, and created a proud record of helping those his company lent to restructure their troubled accounts. Simply put, it allowed his company, and those it lent to, to succeed.
After 30 years with the company is he looking to retire? "Back in 2000...I could pencil in a nice retirement at 55. Now, it looks closer to 65 based on current events," he said with a laugh.