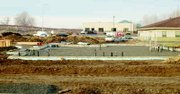 An otherwise slow month for December building starts in Sunnyside was paced by a new commercial medical building for Planned Parenthood that was given the go ahead by city planners. The building, located at 2934 Covey Lane in Sunnyside, will measure 3,330 square feet when completed.
The medical facility has an estimated valuation of $349,650 and generated $3,954 in permit fees for the city of Sunnyside. For the month of December overall, Sunnyside had new building starts valued at $443,157 which netted a total of $7,561 in fees for the city's coffers.
Other notable starts receiving a thumbs up in December included installation of an $11,000 pole sign with readerboard at 501 Scoon Road and a $33,600 home addition at 127 McClain Drive.
Sunnyside city officials gave the thumbs up for two re-roofing projects, with a combined valuation of $4,500, and five window replacements, with a combined valuation of $7,900.
Also in December, Sunnyside city staff issued 28 permits, 19 of which were building permits.
The city also conducted 154 inspections in December, with building inspections accounting for 117 of them. There were 27 mechanical inspections conducted during the month of December.