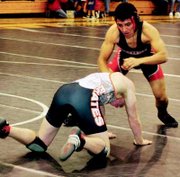 Locked in a tight match with the Davis Pirates the Sunnyside High School grapplers used a four-bout swing in the lower weights to wrestle a victory from the Pirates, 38-27.
"I thought it was going to be real close but it turned out to be more in our favor," Sunnyside Coach George Paulus said. "I expected the meet to be decided by one or two points."
The meet went back and forth until Sunnyside strung together four wins starting with the 215-lb. weight class. The Grizzlies were up 19-12 at the time and then scored 19 straight points to put victory safely into their hands.
The meet started with the 135-lb. match and Sunnyside's Shawn Olivarez gave the Grizzlies an early 6-0 lead when he pinned Roy Cardenas in 5:41. Olivarez was up 7-3 to start the third round and got Cardenas on his back early. Paulus said he worked him until he was able to get the pin.
The Pirates came back with a decision when Kido Espinoza (140 lbs.) beat Sunnyside's Baltazar Avalos 7-2.
Next up was Grizzly Leroy Rodelo (145 lbs.), who scored a major decision against Austin Wagner to give Sunnyside a 10-3 lead. Rodelo was beating Wagner 4-1 to start the third round but exploded for 13 points to win 17-6.
Davis won the next match when Gabe Ramirez (152 lbs.) beat Sunnyside's Caleb Gomez 3-1 in overtime.
David Huizar (160 lbs.) then scored a pin over Davis' Jorge Alcala in just 39 seconds. That was followed by another Grizzly victory when Ricardo Mendoza (171 lbs.) beat Damen Lybeck 7-5 in ovetime.
"This was Ricardo's first varsity match," Paulus said. "It was a great win. His opponent was pretty scary."
Tied at 5-5 Mendoza used a takedown in the first minute of overtime to secure the win.
Tito Gonzalez (189 lbs.) scored a first period pin over Sunnyside's Adrian Ramirez in the next match. This made the score 19-12 in Sunnyside's favor, before the Grizzlies reeled off four straight wins to take control of the meet.
Sunnyside's Frankie Ochoa (215 lbs.) got the ball rolling with a pin over Santos Larios in 2:40. Then Sunnyside's Jorge Chavez (285 lbs.) pinned Taz Allan in 2:57.
"Jorge was behind 4-3 when he got the pin," Paulus said. "It was a good win for the heavyweight."
At 103 lbs., Sunnyside's Christian Reyes scored a 15-4 major decision against Alexio Garcia. Sunnyside's Steven Romero (112 lbs.) then finished out the run with a 5-0 beating of Cortney Nalley.
Davis won the next three matches to account for the final 38-27 score.
The three losses were sustained by Sunnyside's David Vidales, Juan Barajas and Nick Martinez.
It was the Grizzlies' sixth straight win after a loss to Wenatchee on Dec. 9.
Sunnyside (2-1, 6-1) will host Southridge High School this Thursday, Jan. 15, at 7 p.m.