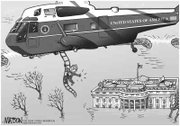 Whew! The Bush presidency is almost over. Now if that's not a reason to pass out candy in the streets, I don't know what is.
I've been hard on W. sometimes, but I also gave him credit the one time he did something right, the surge. And though I think Bush will go down as one of the worst presidents we've had in recent memory there are a few good things that have come from the last eight years.
The most pleasant result of the Bush presidency is the impression that comedian Will Ferrell does of him. It's pure genius. The laughs I've had watching Ferrell skewer Bush have been wonderful and I will miss them. Ferrell will perform a one-man act titled You're Welcome America on Broadway starting in February. I would love to attend.
In years to come I think Bush will most be remembered for his lovable verbal gaffes known as Bushisms. What is a Bushism?
According to Wikipedia it's a neologism that refers to a number of peculiar words, phrases, pronunciations, malapropisms and semantic or linguistic errors that have occurred in the public speaking of George Bush.
There have been so many Bushisms uttered by this man that there are daily calendars out there where each day features a new one. It's kind of like a Far Side daily calendar except it's full of ridiculous things Bush has said. Each day brings a new laugh.
Here are some of my favorites.
"They misunderestimate me."
"There's an old saying in Tennessee...I know it's in Texas, probably in Tennessee...that says, fool me once, shame on...shame on you. Fool me...you can't get fooled again."
"I know the human being and fish can coexist peacefully."
"Too many good docs are getting out of the business. Too many OBGYNs aren't able to practice their love with women all across this country."
"Our enemies are innovative and resourceful, and so are we. They never stop thinking about new ways to harm our country and our people, and neither do we."
"The ambassador and the general were briefing me on the...the vast majority of Iraqis want to live in a peaceful, free world. And we will find these people and we will bring them to justice."
And my personal favorite is.
"You know, one of the hardest parts of my job is to connect Iraq to the war on terror."
These are just a few of them. There are like thousands. How this man was re-elected will be a question that will baffle people for centuries.
But it's almost over. Now where's my piece of candy?