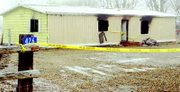 A fire at 426 Outlook Road last night, Tuesday, completely destroyed a house under construction.
Damages for the structure, owned by Nat Pulido, totalled $30,000. There were no injuries
The blaze generated a response from three YCFD #5 stations and 25 firefighters in all. The Yakima County Sheriff's office assisted at the scene.
Firefighters were called to the scene at 6 p.m. and found the back half of the structure was partially on fire and the entire building filled with smoke. Fire crews had the fire under control within an hour.
The cause of the fire is under investigation by the Fire Marshal's office and a site inspection is expected sometime today.