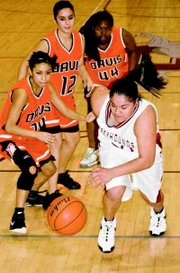 GRANDVIEW - Last night (Tuesday) the Grandview Lady Greyhound hoopsters chewed up the 4A Davis Pirates for a 57-37 win.
"These girls came ready to play," Grandview Coach Paul Van Pelt said of his team
He attributed the win, just the second of the season, to his team's ability to "get out of the gates quick," which was the downfall of the Lady 'Hounds last weekend.
2A Grandview began the game by surging to a 20-6 first quarter lead. The team ended the first half with a 14-point lead.
"When it came down to crunch time, we took care of the basketball...we had a size advantage, so we were making smart passes and getting the ball to our posts," Van Pelt commented.
Grandview's Kinzi Poteet was the leading scorer, tossing in 21 points. She snatched a total of 10 boards from the glass, nine of which were defensive. She also provided five assists against the Pirates.
Doris Lupercio was 6-for-14 from the field and 2-for-6 at the free throw line. She forced four turnovers and stole the ball from the Pirates twice. She also had seven rebounds.
Teammates Jessica Lopez and Haley Smasne threw in eight and six points, respectively. Smasne also had five boards and forced four turnovers.
Meghan Smasne was another key player for the Lady Greyhounds' defense, grabbing eight balls from the glass. She forced three turnovers and had two steals. She also scored two points.
Other Grandview players scoring last night were Krista Castillo (4) and Gio Gomez (2). Gomez also forced five turnovers.
Another two balls were stolen from Davis by Lady 'Hound Shyann Guillen.
"This was a much needed win for our girls to get their confidence back and start believing that they can play with the best of the best," commented Van Pelt, stating he was proud of all the team accomplished against the Pirates.
Grandview (1-5, 2-6) travels to Selah this coming Friday and hosts Prosser Saturday.