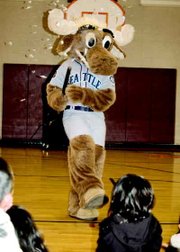 GRANDVIEW - A couple of Seattle Mariners, joined by the Mariner Moose, made a stop in Grandview yesterday at McClure Elementary School as part of a "Dream Team" mission aimed at keeping kids healthy, safe and sound.
Third baseman Matt Tuiasosopo and pitcher Ryan Feierabend were joined by television analyst Mike Blowers, as well as the ever popular Mariner Moose.
The athletes shared ideas with the students as to how they could achieve their goals and make their dreams real, using D.R.E.A.M. as an acronym.
The D, said Blowers, stands for drug-free.
R, he said, stands for respect. Tuiasosopo said, "Eating healthy, getting exercise, working hard in school and taking care of business in the classroom is a way of respecting yourself."
The E stands for education. Feierabend said, "Education is the one thing no one can take away from you in life."
The A stands for attitude and Tuiasosopo said his positive attitude has helped him get through adversity.
The M stands for, much to the Moose's disappointment, motivation. Blowers said, "Motivation is a word that ties these things together."
Following the assembly at McClure school, the baseball stars signed autographs for the children.