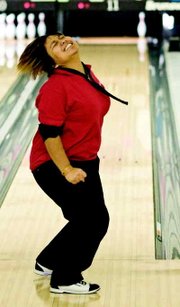 With three girls topping the two-game, 300 series plateau, the Sunnyside High School bowling team turned in its strongest effort of the 2008-09 season yesterday afternoon.
Unfortunately for the Sunnyside keglers, West Valley was able to go tit-for-tat with the Lady Grizzlies, eking out a 3-1 road victory. The Rams' narrow win at Valley Lanes in Sunnyside keeps the Lady Grizzlies (0-10) winless on the season.
Stepping up their games yesterday for Sunnyside was the trio of Marisela Prado, Marisol Canales and Maleesha Maltos. Prado rolled a pair of 162 games for a team-high 324 series. Canales and Maltos were nipping at her heels with two-game efforts of 313 and 312, respectively.
West Valley, behind performances of 183, 179 and 174 from the likes of Alyssa Deaton, Sam Sutton and Amber Pearson, dominated Tuesday's opener, 831-713. Maltos and Prado turned in the top efforts for the Lady Grizzlies in that contest with games of 172 and 162.
Sunnyside closed the gap considerably in game two, losing by only13 pins to the Rams, 778-765. Canales paced a balanced Lady Grizzly attack in that match-up, tossing a 174. Sunnyside, in game two, also got efforts of 163 and 162 from Ileana Martinez and Prado, and 140 and 126 games from Maltos and Marissa Martin, respectively. West Valley was led to the 13-pin margin of victory by Sutton and Mandy Cramer with identical 177 performances.
The Lady Grizzlies made Tuesday's match interesting by winning the first of the two Baker games, 171-149. Baker bowling requires each member of the five-girl squads to alternate taking turns throughout the 10 frames.
The Rams earned the 3-1 victory, however, by securing a 177-140 decision in the second Baker contest.
Sunnyside is scheduled to take on the Selah Vikings at Yakima's Minda Lanes this coming Thursday. The Lady Grizzly bowlers will then close out the regular season in Ellensburg next Tuesday, Jan. 20.
In JV action yesterday afternoon, West Valley claimed a 4-0 sweep of the host Lady Grizzlies. In the losing cause for the Sunnyside junior varsity, Amanda Villareal had the top single-game effort, rolling a 157 in the opener.