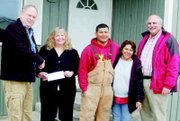 GRANGER - Pedro and Lourdes Armenta of Granger have five children and live in a trailer here.
Two of the children sleep in the living room.
It's cold, not enough heat. "What are we going to do?" they ask mom and dad.
What the Armentas are going to do is move into a brand new, three bedroom home in Granger one month from today.
That's thanks to Habitat for Humanity and local businesses that have chipped in.
In fact, just yesterday AmericanWest Bank presented a check for $1,000 to Yakima Valley Habitat for Humanity in front of the Armentas' home where construction is nearly finished.
"The economic downturn is creating a ripple effect nationwide and putting additional pressure on non-profits that serve families in need, which is why we're stepping up to assist organizations like Habitat for Humanity," said Sandy Purcell, a manager for AmericanWest Bank's Sunnyside and Mabton locations.
According to Mike Nixon, executive director for Habitat for Humanity, the $1,000 donation will be used to assist with the completion of two houses already underway in Granger. That includes the Armenta house on Third Street, where the focus is completing the interior of the home.
This is the second gift AmericanWest Bank has made this year to Habitat for Humanity. Area businesses and individuals who want to know more about donating or volunteering with Habitat for Humanity can call 509-453-8077.
For the Armentas the new house means "my American dream is coming true," says Pedro. It means plenty of room for the children. No one will have to sleep in the living room and the cold shouldn't be a problem.
As the couple worked in the kitchen yesterday, cleaning up dust left behind after sanding, Lourdes smiled and she likes the big kitchen she'll have. Pedro, an orchard worker, said he likes the hardwood floors that run throughout the house.
After moving in, Lourdes said she'll put that kitchen to work by holding a barbecue for all the people, volunteers, who have helped build their house.
Pedro paused and said the first thing he's going to do on moving day is "give thanks to the Lord."
- John Fannin can be reached at 837-4500
or e-mail him at jfannin@dailysunnews.com